Coronation Street spoilers: David Platt wants Gail out of the salon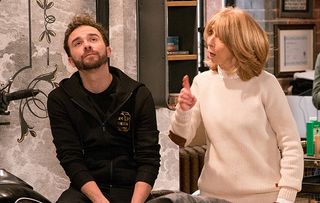 David Platt walks out refusing to work with his mum for a minute longer
Having Gail around the salon is winding David Platt up so he is furious when Nick lists all of her brilliant attributes and says he has given her a job. David walks out refusing to work with her for a minute longer.
Robert is furious when Anton turns up with flowers for Michelle to apologise before explaining to Robert what happened. When he turns to Michelle she explains what happens and tell him the doctor told her she wasn't pregnant. Will she tells Rob that is is having second thoughts about having a baby?
As Eileen and Jan enjoy each others company, Seb storms over and accuses Jan of nicking his job and Eileen of siding with the enemy.
Tyrone refuses to let Evelyn know he is pleased she is back and tells her to pack her bags and get out. He's secretly relieved when he gets home and she is still there, as she still owes him 750 euros he spent to get her home. Confronting her he explains she can stay until she has paid him back, and it's clear she is pleased to have a reason to stay.
Jenny awkwardly thanks Liz for sparing her from a prison sentence and Liz suggests that from now on they keep their distance. Lolly calls a meeting of the hens and suggests she organises a drag queen for the hen do. Kate and Rana aren't keen but by way of a compromise, agree to a small do at the bistro.
Second episode of Corrie tonight.
Get the latest updates, reviews and unmissable series to watch and more!
Thank you for signing up to Whattowatch. You will receive a verification email shortly.
There was a problem. Please refresh the page and try again.