Coronation Street spoilers: Gail Platt persuades Audrey to ditch Lewis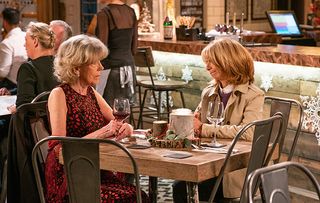 Audrey heads home with Gail Platt fearing she was right about Lewis all along.
Gail Platt is suspicious that today is the day that Lewis is planning to flit, meanwhile Lewis calls in the salon and begs Audrey to meet him in the bistro for dinner promising that all will become clear.
Audrey confides in Maria that she really loves Lewis and with Maria's blessing, Audrey heads into town to buy a new dress for her dinner date. Later, Gail finds Audrey in the bistro, anxiously waiting for Lewis who is running late. Admitting defeat, Audrey heads home with Gail fearing she was right all along.
Peter reveals to Ken and Simon that he's pulled out of the snooker hall deal. A delivery man calls at No.1 with a boat for Peter, a gift from Carla. Peter thanks Carla and tells Simon that once restored, he plans to sail the boat around the Caribbean and hopes he'll come too.
David's taken aback when his old cellmate Paul calls at No.8. Paul quickly makes himself at home and explains he's looking for work.
Over dinner in Speed Daal, Emma gazes adoringly at Chesney but he's preoccupied by a series of texts from Gemma.
Sarah and Gary have money woes but will Gary bring himself to tell her how much financial trouble they are in? Beth and Kirk come up with a money-making scheme to raise funds for Sinead.
Get the latest updates, reviews and unmissable series to watch and more!
Thank you for signing up to Whattowatch. You will receive a verification email shortly.
There was a problem. Please refresh the page and try again.