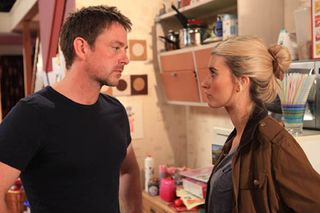 Debbie wants to know why Sarah's little body is bruised and so does Andy. It's Cameron who has been looking after the little girl so it's Cameron they turn to for answers. But he doesn't have any. No, he didn't touch Sarah and, no, he doesn't know of anyone else who might have caused the bruises. Debbie believes Cameron but she's not comforted when he tells her it's probably nothing to worry about... Amy's worried, too, and so she should be! She's faked a burglary at her new home and stolen from Val and Pollard. She feels guilty and she can't hide that. Pollard suspects that she had something to do with the robbery but Amy has Victoria on her side. She also still has Jared to worry about. He'll be back for more money. Leyla's worried about Alicia's plans to move to Spain - and Alicia's worried about Jacob's reaction. When he hears that he's being shipped out to Spain with Andy and Alicia he announces he doesn't want to go. He likes it in Emmerdale. Leyla loves hearing that, but Alicia doesn't. She tells Jacob they're going, but that they'll come back if he really doesn't like it.
Get the latest updates, reviews and unmissable series to watch and more!
Thank you for signing up to Whattowatch. You will receive a verification email shortly.
There was a problem. Please refresh the page and try again.