Doctors spoilers: SHOCK for Karen Hollins when Jadie Taylor-Wood collapses!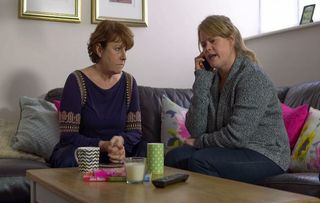 Karen goes behind Rob's back and invites Jadie and Beth Taylor-Wood over to visit Mikey. But things take a terrible turn when Jadie faints and collapses!
As Karen Hollins continues to carry out her own investigation into the relationship between Jadie and Beth Taylor-Wood and their six-year-old son Mikey, she decides to invite the parents round behind the back of her policeman husband Rob, knowing he will disapprove.
Although the women have been banned from any further contact with Mikey until further notice, Karen thinks the little boy is safe around his parents and goes on to tell them about how accident-prone Mikey is.
With Mikey's clothes drying in the Hollins' house because he fell over and got muddy, Jadie offers to take him back to their house and get some dry ones. But is Karen being too trusting?
As time passes and Jadie and Mikey fail to return, Beth gets worried and she, Karen and Rob go in search of Jadie and Mikey. They are shocked when they find Jadie collapsed, having fainted! Is the stress of the situation all too much?
Meanwhile, Jimmi Clay meets charity volunteer Sol Akinawe who has diabetes and he soon realises Sol has trouble knowing when NOT to get involved! Jimmi reminds Sol of the importance of taking care of himself as well as those in the charity world.
Doctors continues weekdays at 1:45pm on BBC One
Get the latest updates, reviews and unmissable series to watch and more!
Thank you for signing up to Whattowatch. You will receive a verification email shortly.
There was a problem. Please refresh the page and try again.