Enigma - Paramount Network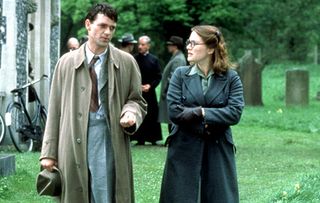 During World War Two, codebreaker Dougray Scott and colleague Kate Winslet find themselves caught up in a mystery
During World War Two, codebreaker Dougray Scott and colleague Kate Winslet find themselves caught up in a mystery.
They work at the government's top-secret Bletchley Park intelligence facility in Buckinghamshire, where Scott helps decipher the Germans' Enigma radio codes, despite being heartbroken over the disappearance of one-time sweetheart and fellow decoder Saffron Burrows.
Cipher clerk Winslet helps him get to the truth of what's happened to her in a fiendish game of cat-and-mouse that also involves smooth spy-catcher Jeremy Northam.
The colour and costumes are wonderfully evocative of the World War Two Home Front and all the performances are first rate. Anyone with any knowledge of Poland in the war may guess what's really going on early on and the plot becomes ludicrously hurried and unconvincing at the end, with a mad rush to meet a German U-boat and some woeful aerial special effects.
Apart from that daft finale, though, this is a top-flight spy thriller.
Get the latest updates, reviews and unmissable series to watch and more!
Thank you for signing up to Whattowatch. You will receive a verification email shortly.
There was a problem. Please refresh the page and try again.