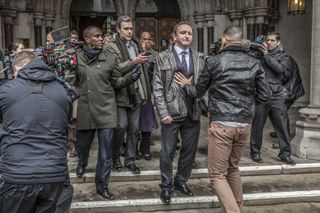 (Image credit: Patrick Redmond +353872600976)
Whilst helping out the drugs squad on a bust, Ronnie and Joe stumble upon a body that has been hidden inside the boot of a car submerged in the River Thames.  The man is revealed to be Taylor Kane, a black undercover policeman who went missing in the Eighties, at the time of the Brixton riots. Soon, unsettling evidence is unearthed as Ronnie, Wes and Joe raise issues that the police would rather forget. Wes finds himself personally putting his head above the parapet when he gets an unexpected visit from the Commissioner.
Jake takes up the cause with Ronnie, Joe and Wes as defence barrister Philip Nevins argues the case for his defendant DS Darren Grady (Ralph Brown). Accusations of racism are thrown around as our heroes get in deeper and deeper when the case hits the headlines and Kane's sister, Nikki Carroll (Jenny Jules), comes knocking at their door.
It is time to pick a side as friendships and loyalties are tested and careers are put on the line for justice.
Guest starring the late Roger Lloyd Pack and Graham Cole (The Bill).
Get the latest updates, reviews and unmissable series to watch and more!
Thank you for signing up to Whattowatch. You will receive a verification email shortly.
There was a problem. Please refresh the page and try again.