Joanne makes herself comfortable with Louis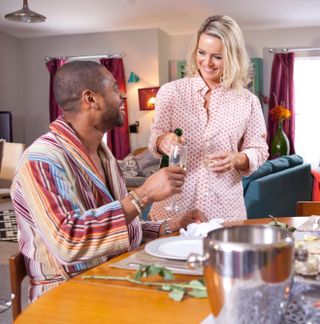 Simone's still locked in the Price Slice van, while Joanne pretends to Louis that her boiler has burst and asks if she can stay. Joanne puts on one of Louis's shirts, with nothing much else, as Lisa and Zack rescue Simone from the van. Later, Joanne and Louis are caught enjoying Prosecco and Oysters together. As Joanne offers Simone the chance to go to a conference in London, it seems she's slowly driving a wedge between the Lovedays…
Ben and Trevor are alone in The Loft, with Ben pointing a gun at his nemesis. Grace and Sienna hear a gunshot from outside and arrive to find Trevor face down on the floor. Trevor's fine and, as Ben rushes off, Grace urges Trevor to go after him, but he just wants to go home. Later, Sienna receives a text from Trevor saying 'Thank you'. She returns to The Loft where they kiss!
Cleo lashes out at Mrs St Claire when she threatens to fail her. When John Paul pleads with Mrs St Claire to give Cleo another chance, she agrees, then she looks on affectionately as John Paul walks away. Does she have feelings for him?
Also, Diane comforts an upset Cleo, who asks for a job at The Hutch. What Diane doesn't know is, Cleo's using the money to give to Pete...
Get the latest updates, reviews and unmissable series to watch and more!
Thank you for signing up to Whattowatch. You will receive a verification email shortly.
There was a problem. Please refresh the page and try again.