Leela drowns her sorrows and makes a pass at Darren as jealous Mandy watches on!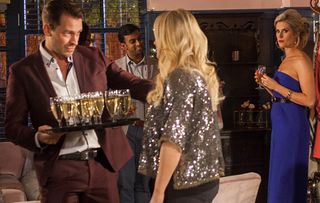 Drunk Leela humiliates herself by making a move on Darren
As the restaurant launch gets into full swing, Leela starts knocking back the drinks to try and blot out the pain of missing Peri.
However when Darren tries to take her home, the drunken mum makes a pass at him which leaves Mandy fizzing with jealousy. Is it all about to kick off? And will Mandy let her true feelings towards Darren, slip in public?
Meanwhile, Maxine begins to move her belongings into Grace's flat but Adam is worried about her and daughter Minnie living under the same roof as his criminal dad, Glenn.
Elsewhere, Leah returns to the deserted school building with Charlie in tow.
Ste's furious when he discovers his daughter has gone to the dangerous school site and he and Farrah head off to bring Leah back.
Desperate Kim, who's been imprisoned there, hears Farrah's voice in the distance and shouts out for help but will her shrieks fall on deaf ears?
Meanwhile a curious Leah inserts a sim card that she found at the school building into her phone. What is she about to discover?
Get the latest updates, reviews and unmissable series to watch and more!
Thank you for signing up to Whattowatch. You will receive a verification email shortly.
There was a problem. Please refresh the page and try again.