Lisa and Sonia get into a fight!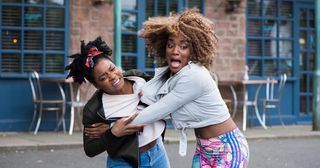 It's handbags at dawn when Lisa and Sonia come to blows in Hollyoaks...
Lisa and Sonia have a strained conversation in the village, which results in Lisa sprawled out on the floor after they fight! They both apologise and Sonia realises she has to leave Hollyoaks if Lisa stands any chance of bonding with her family. Later, Zack and Simone turn on Lisa - Simone admits to Lisa that Sonia's the daughter she wants, not her!
Marnie's appalled at the accusation when Nathan asks whether Mac ever used to 'discipline' them when they were kids. Later, James takes another man home to spite meddling John Paul.
Peri's flabbergasted when Nico suggests they get their own place together. They're both feeling guilty about Maxine and bump into her outside the hospital. Peri can't handle the guilt, however, and rushes off.
Also, as Alfie locks himself in his room to be with 'Jade', Marnie and Cindy team up to bring Alfie out of his shell. He gets annoyed, though, when they throw clichés at him about grief and storms back to his room!
Get the latest updates, reviews and unmissable series to watch and more!
Thank you for signing up to Whattowatch. You will receive a verification email shortly.
There was a problem. Please refresh the page and try again.