On yer bike! Paddy wants Pierce gone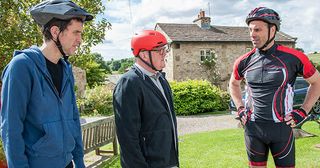 (Image credit: Andrew Boyce)
Paddy thinks he can win back Rhona by playing Pierce at his own game
Paddy feels he is losing and his best friend Marlon to Pierce. But he is not going to just let Pierce take over his life. So, to everyone's shock, Paddy joined Pierce, Carly and Marlon on a bike ride – a proper one, as Carly is training for a triathlon. Who knew Paddy even knew how to ride one?! And, as it turned out, he was so wobbly he fell off. But Paddy's plan was to get closer to Pierce to prove he isn't the all-round good guy he appears to be. Instead of getting rid of his enemy, though, Paddy put his friendship with Marlon on the line when he gave him an ultimatum: he has to choose between him and Pierce. Marlon couldn't believe what he was hearing.
Robert has been texting Lachlan, pretending to be his father and trying to get him to confess to shooting Lawrence. It looked like his plan was about to work, too. Then Robert realised Chrissie had rumbled him and was replying for Lachlan. Chrissie insisted Andy shot Lawrence but Robert doesn't believe her and threatened to call the police, saying Lachlan will soon crack under questioning. Will he?
Kerry told Ashley that heavily pregnant Laurel shouldn't be working so much. Ashley felt guilty. But Laurel insisted she's fine; she needs to keep working because they need the money.
Get the What to Watch Newsletter
The latest updates, reviews and unmissable series to watch and more!