The Misadventures of Romesh Ranganathan - BBC2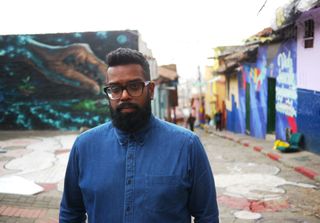 (Image credit: BBC/Rumpus Media Ltd)
The Misadventures of Romesh Ranganathan takes the left-field traveller to Colombia
In the last of The Misadventures of Romesh Ranganathan, Romesh heads to Colombia in South America.
Apart from watching the popular TV show Narcos, which details the life of its most infamous drug baron Pablo Escobar, Romesh doesn't know what to expect.
But he's intrigued to find out if there's more to Colombia than cocaine and cartels.
Romesh's guide, local DJ Heisel Mora, certainly thinks there is and shows the sceptical presenter around the new Colombia where violence has been replaced by tourism.
Together, the two of them visit the bombed-out remains of Escobar's old home, but they also see beautiful cities, beaches and culture. Romesh even learns to dance… kind of.
TV Times rating: ****
Thank you for signing up to Whattowatch. You will receive a verification email shortly.
There was a problem. Please refresh the page and try again.