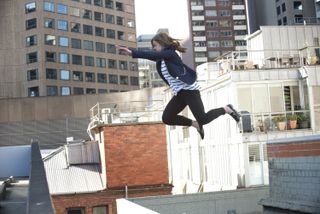 However, their plan could have fatal consequences...
*10pm special*
Piper surprises Tyler by booking a hotel room so they can spend their last night together alone. However, Piper shocks Tyler when she tells him she wants them to go on the run. Tyler says yes to her plan and, with the help Xanthe and Ben, they put things in process for their getaway. However, there could be tragic consequences in store for the young lovers…
Meanwhile, Paige hands Gabe over to Jack and there is instant chemistry between the two. Feeling guilty and awkward, Paige starts being overly affectionate to Mark. Will Mark sense something isn't right?
Later that night, Paige is worried, as Jack hasn't sent any text updating her on Gabe like usual. Worried about her son, Paige goes back to Jack's place to check that everything is alright. She finds Gabe peacefully asleep and, as Jack and Paige watch their son together, the sparks fly…
Also, Toadie's party is eventful for multiple reasons. First, Karl and Susan bicker all night long, as Karl isn't keen on Susan's outfit choice. Things turn into a full blown argument, however, when Susan finds out that Karl has liquidated their deposit, so he can have the hospital wing named after him. Susan storms out of the party but hits someone as she's driving. She finds out she's hit Izzy - will Izzy be OK? Later, a mysterious stranger turns up to Toadie's party looking for Paul…
Get the latest updates, reviews and unmissable series to watch and more!
Thank you for signing up to Whattowatch. You will receive a verification email shortly.
There was a problem. Please refresh the page and try again.