Zack and Lisa caught in the act!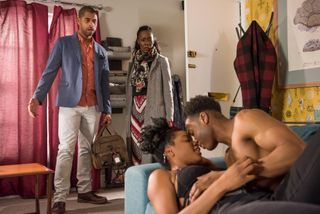 Zack encourages Louis to keep fighting for his marriage – but when Louis books a romantic getaway, Simone thinks he's booked it for him and Joanne. After a heart to heart with Jack, Simone agrees to give Louis another chance. They head off to the fancy hotel, leaving Lisa and Zack with the flat to themselves. However, when their parents return to the flat having forgotten something, they're horrified to see a half-naked Lisa and Zack kissing on the sofa…
Trevor demands that Ste and Harry start paying their way, so Grace suggests they do some shifts at the club. But when Trevor discovers Ste and Harry have unplugged the water pump in his fish tank, he throws them out of the flat – they're homeless again! Meanwhile, Sienna tells Trevor she's going to get a confession out of Nico today but, when Sienna meets Nico at The Loft, Nico grows suspicious about her mum's motives and moves in for the kill. When Trevor comes back into the bar, however, Nico turns on the water works.
Worried Sienna's remembered everything, Nico tells Ben she thinks Sienna's sick again and needs professional help. At the hospital, Sienna finds a stranger sat with Nico and Ben. Sienna and Nico are shocked when Ben declares he wants to get married, right now, and the stranger is the hospital chaplain!
Also, Ben interrogates Frankie and Esther who are keen not to tell him they assisted in Lindsey's escape. Kim blames herself for letting Lindsey flee and Frankie has to urge Esther not to tell Kim the truth.
Get the latest updates, reviews and unmissable series to watch and more!
Thank you for signing up to Whattowatch. You will receive a verification email shortly.
There was a problem. Please refresh the page and try again.