Zosia tells Guy: Butt out, Dad!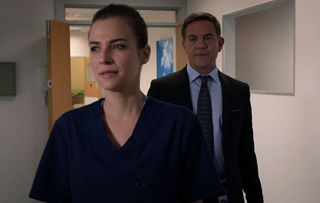 (Image credit: BBC)
Will Guy be the only person NOT at Zosia's wedding?
Keen to prove he's the perfect father following his return to Holby last week, Guy Self insists on paying for daughter Zosia's upcoming wedding. She agrees – but soon regrets ever letting him get involved. Guy's not entirely thrilled about Zosia marrying fellow medic Ollie, especially when Ollie confesses he proposed to Zosia after they'd hit a 'bad patch'. Guy presses Ollie, who reveals Zosia had an abortion.
When Zosia angrily rejects Guy's suggestion that she gets married in a replica of her late mother's wedding dress, he questions whether she's having doubts about getting married. Guy makes things worse when he tells Zosia he knows about the termination. He then accuses her of being scared of marrying Ollie amid fears she'll be second best to Ollie's late wife Tara!
Later, as Zosia hands out 'Save the Date' cards for her wedding, she tells her dad he's not welcome! Has Guy ruined any chance of being at his daughter's big day?
Elsewhere, Bernie can't believe her ears when Hanssen and Nina inform her they have to close her Trauma Unit or risk having to shut down AAU altogether! Will Bernie fight for what she believes in – or will she realise there are some battles you just can't win?
Up on Keller, it seems Lofty has fallen out of favour with Dom. Will he be able to win him round?
Get the latest updates, reviews and unmissable series to watch and more!
Thank you for signing up to Whattowatch. You will receive a verification email shortly.
There was a problem. Please refresh the page and try again.