'The Reckoning' — cast, plot, and all about the drama starring Steve Coogan as evil Jimmy Savile
The Reckoning on BBC1 will star Steve Coogan as predatory presenter Jimmy Savile...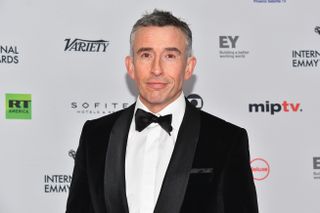 (Image credit: Getty)
The Reckoning on BBC1 will see Steve Coogan play predatory sex offender Jimmy Savile. The upcoming drama traces Jimmy Savile's life, from his working-class early years in the dance halls of northern England to his presenting career with the BBC where he became one of TV's biggest stars, hosting hit shows in the 1970s such as Top Of The Pops and Jim'll Fix It. It also will look at how Savile's prolific sexual abuse of underage kids was kept under wraps until after his death in 2011.
"I think this is a story that has to be told," explains The Reckoning writer and executive producer Jeff Pope. "We must understand why a man like Jimmy Savile seemed to remain immune for so long to proper scrutiny and criminal investigation."
'The Reckoning' release date
As casting for The Reckoning has only started to be revealed, it does mean a BBC1 release date is quite far off, possibly 2022 or 2023. We have no news either on a worldwide or US release date. We'll update in due course.
'The Reckoning' cast — Steve Coogan on playing Jimmy Savile
Steve Coogan has been cast as vile predator Jimmy Savile in The Reckoning. He revealed: "To play Jimmy Savile was not a decision I took lightly. Neil McKay has written an intelligent script tackling sensitively an horrific story which - however harrowing - needs to be told."
Steve Coogan is well know for his comedy roles including playing fictional |TV presenter Alan Partridge, most recently in This Is Alan Partridge. He's also starred in some hard-hitting drama such as Stephen on ITV recently, plus movies such as Philomena, alongside Dame Judi Dench, in 2013. Plus there's his comedy travelogue The Trip.
'The Reckoning' locations and filming news
Filming of The Reckoning began from early October 2021 on location in and around Greater Manchester, starting in Bolton. There, scenes take place in Le Mans Crescent, alongside the former Bolton Magistrates Court building behind the town hall. The paved area has become well known for being a filming location in other hit TV dramas such as Peaky Blinders and It's A Sin. We'll add more location details her when we get them.
'The Reckoning' on BBC1 — who was Jimmy Savile?
Savile rose to fame in the 1960s and in the 1970s was a popular radio DJ and TV presenter, who regularly hosted Top of the Pops and had his own long-running children's teatime show Jim'll Fix It, where he arranged for children's wishes to come true. He was also known for his fund-raising and support for charities and hospitals.
Why is Jimmy Savile so reviled?
The Reckoning will be a controversial watch no matter what as Jimmy Savile is so reviled. He's now considered to be one of Britain's most prolific sex offenders after hundreds of sexual abuse allegations were made against him after his death. It's thought he used his fame and his involvement in the BBC, hospitals and charities to legitimise himself and his evil deeds. he was never prosecuted or jailed as he died in 2011 before most of the allegations came out in late 2012.
The BBC's justification for telling Jimmy Savile's story in 'The Reckoning'
The Reckoning team are working closely with many people whose lives were impacted by Savile and the drama series will also draw on extensive and wide-ranging research sources. "We don't intend to sensationalize these crimes but to give voice to his victims," says controller of BBC drama Piers Wenger."We'll work with survivors to ensure their stories are told with sensitivity and respect."
What other TV dramas is 'The Reckoning' writer Jeff Pope famous for?
The Reckoning writer Jeff Pope produced the BAFTA-winning series Appropriate Adult, which starred Dominic West as Fred West, as well as The Moorside, the series that told the story of the community impacted by the disappearance of Shannon Matthews. He also wrote ITV dramas such as Cilla, Little Boy Blue and A Confession.
Get the latest updates, reviews and unmissable series to watch and more!
Thank you for signing up to Whattowatch. You will receive a verification email shortly.
There was a problem. Please refresh the page and try again.