Why Didn't They Ask Evans?: release date, cast, interviews, plot, trailer and all about the new Agatha Christie adaptation
Agatha Christie's Why Didn't They Ask Evans? on ITV1, ITVX and BritBox is directed by and starring Hugh Laurie, along with Will Poulter and Lucy Boynton.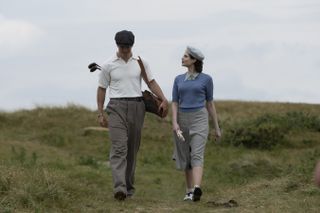 (Image credit: ITV)
Agatha Christie's captivating murder-mystery Why Didn't They Ask Evans? is a three-part series directed by its star Hugh Laurie and also boasts an all-star cast. Based on the iconic 1934 novel by Agatha Christie, Why Didn't They Ask Evans? follows vicar's son Bobby Jones, played by Will Poulter and his adventurous friend, socialite Lady Frances 'Frankie' Derwent (Lucy Boynton), as they dig deep into a murder. But their amateur sleuthing brings no end of trouble their way. There are some big names in the cast too, with Jim Broadbent and Emma Thompson playing aristocrats Lord and Lady Marcham, who are the parents of Lady Frances.
Here's the lowdown on everything you need to know about the ITV1 and BritBox adaptation of Why Didn't They Ask Evans?...
Why Didn't They Ask Evans? release date
Why Didn't They Ask Evans? arrives on ITV1 for 2023 on Easter Sunday April 9 at 9pm. It's a three-part series so episodes 2 and 3 will be shown on subsequent nights at the same time time on Easter Monday April 10 then finishing on Tuesday April 11. You can also watch on ITVX.
The crime drama first launched on streaming service BritBox on Thursday April 14 2022, in the UK, US and Canada.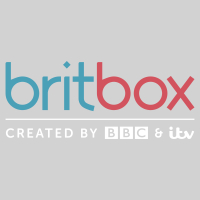 Britbox is the No. 1 way to watch all your favorite British shows from the BBC and ITV. And you can watch it easily via Amazon Prime Video Channels. All your subscription and billing is handled through your Amazon account, allowing you to watch as much as you want for a single price.
Is there a Why Didn't They Ask Evans? trailer?
Yes ITV and BritBox have released a trailer for Why Didn't They Ask Evans? which gives you a great glimpse of Will Poulter, Lucy Boynton, Jim Broadbent and Emma Thompson in action. Take a look below.
What is the plot of Agatha Christie's Why Didn't They Ask Evans?
A pair of plucky childhood friends attempt to answer the cryptic question posed by a dying man in three-part series set in the 1930s . Agatha Christie's famous mystery sees ex-naval officer Bobby Jones (Will Poulter) stumble across a stranger who appears to have fallen from a Welsh cliff. The man then utters the puzzling words, 'Why didn't they ask Evans?' before succumbing to his injuries.
Bobby's gung-ho aristocratic pal Lady Frankie Derwent (Lucy Boynton), daughter of Lord and Lady Marcham (Jim Broadbent and Dame Emma Thompson), becomes intrigued by the incident and she and Bobby try to unravel the mystery.
Their investigation leads them to a country house in Hampshire, where secretive Henry Bassington-ffrench (Miles Jupp) lives with his troubled wife Sylvia (Amy Nuttall) and gregarious brother Roger (Daniel Ings). Among the neighbours is shady local doctor, James Nicholson, played by Hugh Laurie, who has adapted the drama, which also stars Paul Whitehouse and Conleth Hill (Magpie Murders). But when Bobby and Frankie stage a car accident so Frankie can worm her way into the Bassington-ffrenches' house, danger looms…
Why Didn't They Ask Evans? cast — Will Poulter on playing Bobby Jones
British star Will Poulter stars as Bobby Jones, the son of the local vicar. He's amiable and honest to a fault, so is the perfect person to investigate a murder mystery.
Will told us he jumped at the chance to star in an Agatha Chirstie drama: "I'm deeply honoured to have been given the opportunity to co-lead this project with Lucy. Agatha Christie's such a well-loved name in literature, so you're off to a good start anyway but Hugh captures the spirit of the book and delivers on the things that people love about Christie's work, while also giving it contemporary energy and humor. There's the thrill of the chase, but it's peppered with jokes throughout and that was fun to play."
Will has been on our screens since he was a child, when he starred as Lee Carter in the 2007 film Son of Rambow. He went on to be cast in The Chronicles of Narnia and The Maze Runner films and appeared in the comedy movie We're The Millers alongside Jennifer Aniston in 2013. He became a huge name after starring in The Revenant alongside Leonardo DiCaprio in 2015, playing Bridger. In 2021 Will starred in the series Dopesick.
Why Didn't They Ask Evans? cast — Lucy Boynton on playing Lady Frances 'Frankie' Derwent
Lucy Boynton plays whip-smart socialite Lady Frances 'Frankie' Derwent, who's described as 'a clever, unflappable woman with a flare for adventure'.
Lucy says "I'm so thrilled to be working with Hugh and Will, and on this story from one of my favourite authors. I can't wait to get started."
British star Lucy first hit our screens playing a young Beatrix Potter in the 2006 movie Miss Potter. She's since starred in Sense and Sensibility, Don't Knock Twice, Apostle and numerous other movies and will portray singer Marianne Faithfull in the biopic Faithfull, coming later this year. This isn't Lucy's first foray into the work of Agatha Christie as she played Countess Andrenyi in the 2017 film version of Murder On The Orient Express. She appeared in the ITV1 adaptation of The Ipcress File in 2022.
Why Didn't They Ask Evans? director Hugh Laurie also stars as Dr James Nicholson
House and The Night Manager actor and comedian Hugh Laurie is directing and executive producing the series. As well as that he'll also play psychologist Dr James Nicholson. The psychologist is the clinical director of the sanatorium near the Bassington-ffrench estate, Merroway Court. This will be Hugh's first major TV drama in the writer and director's chair and he has loved the novel since he was a child. Hugh says: 'The hairs on the back of my neck haven't properly settled down from the first time I grasped the beauty of the essential mystery. Since then, I have fallen deeper and deeper in love with the characters, and feel immensely honoured to have been given the chance to retell their story in this form. I will wear a tie on set, and give it everything I have.'
Here's more from Hugh Laurie on filming Why Didn't They Ask Evans?...
Why do you think Agatha Christie's novels have stood the test of time?
Hugh Laurie says: "Every crime writer owes a debt to Agatha Christie because she defined what a murder mystery should be. There was something in that brain that allowed her to invent these extraordinarily chilling, beautiful stories. The solutions are so satisfying when it dawns on you the trick that she's played. She was a genius."
What appealed to you about adapting this particular story?
Hugh Laurie says: "As a child, I fell in love with Frankie! She was my dream because she was such good fun. Now I've rediscovered my crush on her! She's feisty and fearless with a sense of adventure. And Bobby's an upstanding young man who is slightly adrift and hasn't quite found his place in the world. You want these two to fall in love.
Tell us a bit about their investigation…
Hugh says: "It's a cryptic puzzle. But they chip away at it for different reasons – Bobby because he becomes aware that a terrible crime has been committed, and Frankie because it's a challenge. They eventually discover who the dead man was and what his connection was to various powerful people. I hope we've achieved the feeling that I got when I was a boy reading this story when you suddenly realise what the question, 'Why didn't they ask Evans?' means. It's thrilling."
How do you view your character, Dr Nicholson?
Hugh says: "He's operating in a frightening field, mental illness, which is a scary adversary now but back then, before a lot of psychiatric drugs had made their way onto the market, electroconvulsive therapy was in its infancy. Dr Nicholson has been meddling with that, and his own greater glory as a scientist is an important goal to him…"
This reworking has an impressive cast list. Did you enjoy having Dame Emma Thompson and Jim Broadbent on board as Frankie's parents, Lady and Lord Marcham?
Hugh says: "Yes, they play these batty aristocrats and they were kind enough to come in for a day and be eccentric! We also had Paul Whitehouse as pub landlord Mr Askew. He was brilliant and everyone fell in love with him."
Was it lovely to see all the glorious period vehicles on set?
Hugh reveals: "I had to pretend that it was the director's responsibility to satisfy myself that the classic motorbike was safe. I just wanted to ride it, and it was fun! We also had a Ford Model T that took hours to start. But I don't think you can blame a 100-year-old car for being slow to get going in the morning, I am too!"
How did you find juggling your acting role with directing?
Hugh says: "I thought it would be fun, but I imagine it's like trying to do a Rubik's Cube while people are pelting you with handfuls of hot gravel! It's challenging and I feel retrospective guilt at not appreciating the distresses of directors I've worked with!"
Why Didn't They Ask Evans? cast — who else is starring
As with most Agatha Christie mysteries there are all sorts of characters, so in Why Didn't They Ask Evans? look out for plenty of other cast, most notably Jim Broadbent and Emma Thompson as aristocrats Lord and Lady Marcham.
The Secret Garden star Maeve Dermody plays Moira, the troubled wife of psychiatrist Dr James Nicholson (Hugh Laurie, see above). Game of Thrones and Holding actor Conleth Hill plays Bobby's genial mentor Dr Alwyn Thomas. Daniel Ings (I Hate Suzie) takes on the role of suspect Roger Bassington-ffrench while The Durrells star Miles Jupp is his brother, Henry. Amy Nuttall (Downton Abbey, Emmerdale) stars as Sylvia Bassington-ffrench, the American wife of Henry. Jonathan Jules (Small Axe) is Bobby's shipmate, Ralph, while Morwenna Banks also stars as Mrs Cayman, the dead man's sister.
Alistair Petrie (Deep Heat, Rogue One: A Star Wars Story) is Bobby's father, Rev Richard Jones, along with Paul Whitehouse (The Personal History of David Copperfield) as the landlord of a country inn and Joshua James (Black Mirror) as Frankie's long-suffering ally, Dr George Arbuthnot.
Why Didn't They Ask Evans? — the famous 1980 TV version
Agatha Christie's novel Why Didn't They Ask Evans? was first adapted for television in 1980 and starred Sir John Gielgud as Bobby's father Reverend Jones. Francesca Annis played Lady Frances Derwent while James Warwick took on the role of Bobby Jones. Fawlty Towers star Connie Booth played Sylvia Bassington-ffrench.
As Agatha Christie was notoriously protective of her work, not allowing the slightest deviation from the script, it took 18 months of negotiations with her estate before the 1980 drama could be made. Before that there were relatively few adaptations of Agatha Christie's work on TV, rather than film, as she disliked the medium. When 'And Then There Were None' was shown on telly in 1949 there were several errors, including one of the corpses standing up and walking off set on camera, and from then on a furious Agatha Christie refused to give television rights. This only changed after the author's death in 1976.
Get the What to Watch Newsletter
The latest updates, reviews and unmissable series to watch and more!
TV Content Director on TV Times, What's On TV and TV & Satellite Week
I'm a huge fan of television so I really have found the perfect job, as I've been writing about TV shows, films and interviewing major television, film and sports stars for over 25 years. I'm currently TV Content Director on What's On TV, TV Times, TV and Satellite Week magazines plus Whattowatch.com. I previously worked on Woman and Woman's Own in the 1990s. Outside of work I swim every morning, support Charlton Athletic football club and get nostalgic about TV shows Cagney & Lacey, I Claudius, Dallas and Tenko. I'm totally on top of everything good coming up too.