Tina Hobley in 'shock' that The Jump is returning on Channel 4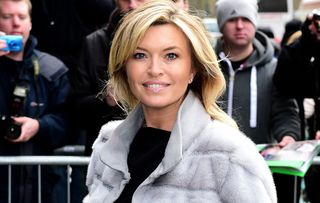 (Image credit: PA Archive/PA Images)
As she continues to recover from injuries sustained on The Jump earlier this year, actress Tina Hobley says she's surprised it's returning
Actor Tina Hobley is 'in shock' that The Jump is returning to television, less than a year after she was badly hurt while taking part.
The former Holby City star has only just come off crutches following the accident, which left her unable to drive and even bathe herself because of injuries to her knee, shoulder and arm.
Firmly denying rumours that she might return to the show in 2017, the mother-of-three told the Press Association: "The Jump is behind me and I will never do that show again.
"I'm still in shock that it's going again but, of course, they will have learnt from all their mishaps and hopefully there won't be any more accidents.
"I'm very, very upset about not skiing for half-term with my children as I have been going for the last 30 years and I am desperate to ski again.
"It has been a really tough year, I'm not going to deny that, but we're out the other side and I am hoping I won't be left with any long-term problems."
Her comments came as she prepares to take on a new challenge, taking over from Anthony Davis as host of The Smooth Drive Home show on London's Smooth Radio.
Already presenter of the Smooth Sunday programme since 2013, she said she planned to 'mix things up' on the daily show by bringing more modern music to the traditional song list.
"I'm beyond thrilled," she said. "I'm planning a great new show.
"It's changing so much, we are having new ideas and our audience is growing and it's very exciting to be a part of it.
"Drive time is so important because when I am stuck in traffic, listening to that radio, I am that driver, so I'm trying to bring a show together that I would like to listen to.
"We're playing a variety – we are keeping the classics, but bringing some newer names to the table and mixing it up a bit, just trying to keep it relevant and be a calming support through that rush-hour."
Now recovering from a series of operations, Tina, 45, also revealed that she was in talks with TV producers about acting in a new drama.
"This is why I left Holby," she said, commenting on her 12-year run playing ward sister Chrissie Williams in the BBC1 show.
"I was so desperate to do a variety of things. It's wonderful to be a part of long-continuing dramas, but it is so difficult to have the time to do anything else.
"I'm in love with the freedom of radio, I'm in love with learning more about radio and, while I definitely haven't moved away from acting, an opportunity has come up and I'm going to grab it with both hands.
"I want to be a chameleon and have many heads that I can change."
But, while she said she is a big fan of box-set dramas and will be watching all the Christmas specials, Tina admitted that she avoided watching shows she has starred in because she 'knows all the tricks'.
Instead, her focus this year has been on Strictly Come Dancing. While being pleased with Ore Oduba's victory, she revealed: "We were so lost this Saturday – we didn't know what we would do with ourselves after the final."
The London-born star, who last week celebrated her 10-year anniversary with husband Oliver Wheeler, now lives in the Cotswolds with her children.
Because of the long battle with her injuries, she said she hasn't been up to planning her usual festive party, but will still have her 'gang', including close friend Jeremy Clarkson, over on Boxing Day.
"I'm like a big kid when it comes to Christmas and fill myself to bursting with chocolate and mince pies," she confessed.
"I need to get another mortgage because I have spent so much on Amazon and I will be watching all the Christmas specials, especially Call The Midwife.
"But I don't believe in New Year's resolutions because I can't stick to them – I'm the most undisciplined person ever."
Tina Hobley's The Smooth Drive Home will launch on January 3 from 4-7pm, available on UK 97-108FM, digital radio, smoothradio.com, the Smooth app and on London 102.2FM.
The Jump will return to Channel 4 in early 2017
Get the latest updates, reviews and unmissable series to watch and more!
Thank you for signing up to Whattowatch. You will receive a verification email shortly.
There was a problem. Please refresh the page and try again.