How to watch college football online from anywhere
Finding the best live streaming option for college football can feel overwhelming. We can help.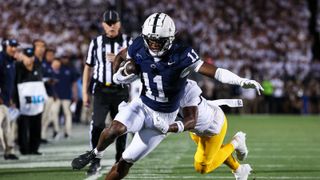 (Image credit: Scott Taetsch/Getty Images)
While baseball may be the national pastime, college football is a truly American passion (if only because we're the only country that plays American football, but we digress). College football remains a big a draw as ever for fans all over the country who want to see every single game they can. One of the easiest ways to do that is to watch college football games online.
With so many options to watch content directly online these days, you don't need to fork out sky-high monthly bills just to get a piece of the college football action. As the start of the 2023-2024 college football season nears, we've got all the ways you can watch the biggest games or you alma mater, and which services are best for watching college football year round.
How to watch college football online anywhere
College football live stream channels
College football draws big crowds and big ratings, so it's little surprise that more than 20 networks and platforms are involved each week in broadcasting them. Most games are on Saturdays, but college football has expanded out to include more games throughout the week.
Here are the major networks that typically cover college football games:
The major networks showing college football games.
ABC
CBS
CBS Sports Network
ESPN
ESPN2
ESPNU
ESPNews
ESPN3
ESPN College Extra
NBC
Fox
FS1
FS2
Fox College Sports Atlantic
Fox College Sports Central
Fox College Sports Pacific
NFL Network
ACC Network
Big Ten Network
Longhorn Network
SEC Network
Stadium
With so many different ways to watch college football, it can be hard to settle on the best option when you have cut the cord on cable TV. Some services may be better based on the specific team or conference you root for. We have suggestions and full breakdowns linked below.
If you are a big fan of all things college football, however, we think one live TV streaming service stands out above the rest.
Best college football streamer: Hulu with Live TV
College football's best streaming option coast to coast is Hulu with Live TV. For $69.99 a month (with ads; without ads its $82.99), fans get access to nearly every network with college football action, this includes the games available on your local channels and nationally syndicated broadcasts from cable channels like ESPN. Hulu with Live TV also now includes ESPN Plus as a standard feature, giving subscribers access to its slate of exclusive live streaming college football games.
The combination of the broad coverage of channels showing college football, conference networks and its price make Hulu with Live TV our pick for the best overall live TV streaming service for college football.
Best value college football live stream: ESPN Plus
ESPN Plus has been making a push in recent years to become one of the main streaming homes for college football. Often featuring teams that wouldn't typically get a national broadcast, as well as occasional games featuring marquee teams from the SEC, Big 12 and more, every week there's a full slate of college football on ESPN Plus for subscribers to stream.
It's easy to sign up for an ESPN Plus subscription, then you can watch games on your phone, tablet, web browser and, of course, on your TV.
Best for the Power Five Conferences: Hulu with Live TV
The Power Five is a term used to describe five major college football conferences; they are the ACC, Big Ten, Big 12, Pac-12 and SEC. The Power Five conferences are typically the best conferences in college football, with the top teams from the Power Five regularly qualifying for the playoffs.
The best way to watch all the action from the Power Five is Hulu with Live TV, as they're games are often part of a network's marque slate of college football games each week, and Hulu with Live TV provides access to just about all of them.
The cost: $69.99 a month after a one-week free trial for the ad-supported version; $82.99 per month for service with no ads
Local channels on Hulu: ABC, CBS, NBC, Fox, and others
Power Five football on Hulu: Yes, Hulu has almost everything you need for ACC, Big Ten, Big 12, Pac-12 and SEC football games
Conference Networks on Hulu: Yes, Hulu has the ACC Network, Big Ten Network and SEC Network.
Best for The Group of Five Conferences: YouTube TV
College football is more than just the Power Five conferences. The Group of Five refers to the AAC, Conference USA, MAC, Mountain West and Sun Belt. While they may not be in the College Football Playoffs every year, teams in the Group of Five play with a high level of intensity and the games can be thrilling.
The best way to watch the Group of Five conferences college football is with YouTube TV, as it features all of your local channels and about all of the major cable sports channels and their subchannels that may carry Group of Five games.
The cost: $65 a month
Local channels on YouTube TV: ABC, CBS, Fox, NBC and more.
The Group of Five College Football on YouTube TV: Total coverage, including ABC, Fox, CBSSN, ESPN, ESPN2, ESPNU, FS1, FS2 and the NFL Network.
More ways to watch college football live stream
Fans have more options than ever before to watch college football games streaming online:
FuboTV packages have a strong focus on sports, including carrying ESPN channels along with the likes of Fox Sports 1, NBC Sports and Stadium. If you live near an ACC or SEC school, you will even get those conference channels too. However, Fubo lacks ESPNU.
DirecTV Stream includes many of the channels you would need for a full college football weekend, but most will require you to pick, at least, its premium plan
Sling TV offers the lowest regular price among the live streaming services (even with its recent $5 price increase), but most college football fans will need to at least step up to the Orange + Blue plan. If you want ACC Network, Big Ten Network, Pac-12 Network, SEC Network and Longhorn Network with Sling TV (yeah, you do) that will require the Sports Extra add-on. Sports Extra for Orange includes ACC Network, Pac-12 Network, SEC Network and Longhorn Network, while Sports Extra for Blue includes the Big Ten Network and Pac-12 Network.
Paramount Plus is the streaming home for the SEC Game of the Week, the best game from what many believe to be the best conference in the country. The streaming service also carries games between the military academies (Air Force, Army and Navy). Watching college football on Paramount Plus does require a Paramount Plus premium subscription.
Listen to College Football live on SiriusXM

Listen to every play on the go with SiriusXM.
The service has live play-by-play from the biggest college football games all season long.
Sirius XM has a dedicated channel for all of the major conferences, including the Power Five. These radio stations include coverage of games along with conference-specific talk and analysis. Listen in your car or stream to your mobile device.
Get the What to Watch Newsletter
The latest updates, reviews and unmissable series to watch and more!
Roy Delgado is a freelance writer for WhatToWatch. His focus is streaming, specializing on sports. He binge-streams 32 games over the first two days of NCAA March Madness annually. He built his own DVR 15 years ago, and still tinkers to make his media setup its best.