The Almodóvar Collection | The Spanish director's early classics restored and in one six-disc box-set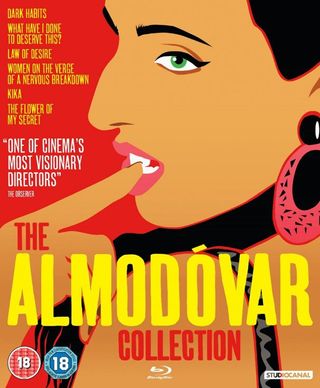 From Studiocanal comes six newly-restored films from Spain's celebrated filmmaker, Pedro Almodóvar – complete with brand new interviews and bonus extras – in one box-set on DVD and Blu-ray.
WHAT'S IN THE COLLECTION…
Dark Habits (1983) Despite the commercial constraints that prevented Almodóvar from taking full flight, this is a ferociously funny satire of religious institutions and morality that still packs a punch. Cristina Sánchez Pascual plays a fugitive nightclub singer hiding out in an impoverished convent with a group of nuns, whose eccentric number include a heroin addicted Mother Superior, a writer of lurid pulp fiction and a acid head masochist with a tiger for a pet. Imagine Sister Act, dressed in day-glo and speeding on a cocktail of LSD and cocaine. Fabulous kitsch fun.
What Have I Done to Deserve This? (1984) Almodóvar mercilessly sends up family life in this terrific hyperrealist black comedy starring Carmen Maura (the director's favourite leading lady) as a blissfully clueless Madrid mother driven to amphetamine addiction by her ungrateful family. Her husband is forging Hitler's diaries, one son sells drugs, while another is pimping himself to a lecherous dentist. Add in some sex maniacs, a pet lizard, and a mischievous mother-in-law (Chus Lampgreave) and you have Almodóvar at his most absurdist.
The Law of Desire (1987) This kitsch camp melodrama was Almodóvar's first film to be screened in the UK, and helped propel Antonio Banderas onto the international stage. It was also Almodóvar first explicitly gay movie as it spun an overblown tale about the complicated love lives of a gay film director (Eusebio Poncela), his hunky lover (Banderas) and a struggling transgender actress (Carmen Maura). Playing fast and furious with Spain's beloved telenovella genre, this is a hilarious, albeit offensive, delight with more than whiff of early John Waters in its blackly comic approach.
Women on the Verge of a Nervous Breakdown (1988)
Almodóvar scored a Best Foreign Film Oscar nomination for this OTT screwball comedy in which a pregnant actress (Carmen Maura in fabulous form) becomes embroiled in a chaotic series of misadventures when she desperately tries to track down her ex-lover. Irreverent and surreal, this stagey cult hit is pure slapstick of the wackiest kind.
Kika (1993)
This outrageous satire on television journalism follows an overly optimistic Madrid beautician named Kika (Veronica Forque) whose tangled relationships with an underwear photographer, an expat American novelist and a psychotic escaped rapist turn into tabloid TV fodder by an unscrupulous reporter (Victoria Abril). Attracting controversy over its rape scene, Kika is one film in Almodóvar's canon that deserves re-assessment and revisiting, especially in how the director approaches his favourite theme – the power of women. It also marked the first time the director collaborated with fashion designer Jean-Paul Gautier.
The Flower of My Secret – aka La Flor de Mi Secreto (1995) This precursor to Almodóvar's critically-acclaimed success, All About my Mother, is amongst the director's most elegant and emotive works. Ditching the kitsch in favour of a more low-key approach, Almodóvar weaves a sentimental tale in which Marisa Paredes (in a career best role) plays a bestselling novelist of pulp romance at the crossroads in her professional and private life. Nominated for multiple Goya awards, this is an intimate yet comic portrait of suffering and pain, and marked a big turning point in Almodóvar's filmmaking, which makes it the perfect final feature to complete this box-set.
Get the What to Watch Newsletter
The latest updates, reviews and unmissable series to watch and more!