Neighbours' Olympia Valance: 'Paige isn't ready for a baby... it's a real spanner in the works!'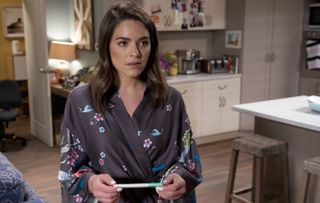 Paige is in turmoil when she finds out she's pregnant and isn't sure who's the daddy, as Olympia Valance explains…
Paige Smith's roller-coaster of a life has taken yet another unexpected lurch into the unknown now she's discovered she's expecting a baby. But who's the daddy? Neighbours star Olympia Valance keeps us in the loop...
It's got to be Father Jack Callahan, hasn't it? "It could be Father Jack, could be Tyler, could even be another shock man! Paige is notorious for keeping secrets from her friends and family. She found out she was pregnant at Lauren and Brad's wedding."
How are things with Jack? "Things with Jack are very difficult now he's gone back to Queensland with Simone. Paige is very hurt that this girl has come back into his life and Jack is devoting all his attention towards her. Not that he's 'with' her. Jack has decided to stay with the church despite what happened between him and Paige – there was no conversation, no nothing – and, baby or no baby, that was very hurtful."
Is it worse for Paige having the church as a love rival rather than another woman? "Jack's in love with the church, he's married to the church and there's no way she can compete with that. Until discovering she was pregnant, Paige had reconciled herself to moving on with her life. Finding out she's having a baby is a real spanner in the works."
If Jack is the baby's father, surely Paige will tell him? "Not necessarily. She will deal with the pregnancy herself – at least that's what she wants to do. She's told no one except David about being pregnant. He's her one and only confidante – for now at any rate."
So Paige intends to have and keep the baby? "Yes. To be honest, she's not really ready to become a mum and it's not something she would have planned. The main reason she split with Mark is because he wanted children, but she didn't feel ready. It's going to be one big emotional roller-coaster for her. "
Thank you for signing up to Whattowatch. You will receive a verification email shortly.
There was a problem. Please refresh the page and try again.