90 Day Fiancé: Happily Ever After? season 7 Tell All — the most shocking revelations
Jovi went on an African safari while Yara recovered from surgery, and Big Ed leaves the Tell All having offended most, if not all, his fellow castmates.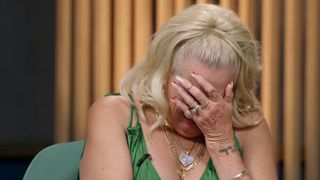 (Image credit: TLC)
The 90 Day Fiancé: Happily Ever After? season 7 Tell All is officially underway and it should come as no shocker that it's chalked full of drama and surprises given that Ed, Angela and Bilal are sharing the same stage.
Between Ed and Liz arguing at one another to Angela blowing up at everyone (sans her husband Michael and show host Shaun Robinson) to the first ever behind-the-scenes cast hangouts, the conclusion to a tumultuous season 7 is one for the books. So what exactly is going down in the reunion special?
Here are some of the most shocking revelations from the 90 Day Fiancé: Happily Ever After? season 7 Tell All.
Ed kicked Liz out of their home
Before Ed and Liz even hit the stage, cameras followed each of them separately as they prepared for the reunion, where they both told the tale of how they are no longer living together. While Ed attempted to paint the picture that they decided not to live together to save their relationship, Liz said Ed pretty much kicked her out of their house. She said he gave her less than a week's notice to find somewhere to live, leaving her to rely on friends to "couch surf" for weeks before she finally found her own place.
Then as the reunion commenced, the couple elaborated on the new phase of their relationship by stating they see each other every other day and are indeed still engaged. The new complexities of their dynamic seemed to raise a lot of confusion among the other cast members (and us as viewers). One thing that was certain, Liz is adamant this latest attempt for her and Ed to salvage their relationship is her last.
That said, Liz caught him on a dating app and found out during the Tell All that he's been communicating with his ex, Rose.
Kimberly and Usman are not back together
In the season 7 finale, Kimberly and Usman ended on a rough note. She was tired of feeling as if she made multiple sacrifices for her then-fiancé only to be met with criticism and more unwanted surprises from him. From Usman's perspective, he was annoyed hearing Kimberly complain about the sacrifices she's made and her not fully grasping he wants children (whether that comes through the adoption of his nephew or kids he may have with another woman). In the couple's final showdown, Kimberly returned her engagement ring and walked away.
However, in the 90 Day universe, a pair calling it quits and then getting back together is not that uncommon. Sadly, the two had not reconciled by the time of the Tell All, although they still communicated as good friends.
Jovi and Yara are ready to move but can't agree on where
In an awkward reunion moment, Shaun asked if Yara is back in Louisiana, but she just cops to being back in the states. When pressed to elaborate on her plans of returning to Louisiana to live with Jovi, she didn't commit to an answer. That's when Jovi interruptted and said the couple has been contemplating moving. Jovi alleged they are thinking about Florida or somewhere else with a warm climate as their next destination, but Yara wasn't on the same page. She emphasized she didn't know where they would move and refused to rule out moving to Prague, much to Jovi's chagrin.
Angela vs everyone
Before Angela even hit the great city of New York, she started off part one of the Tell All gearing up for a fight with Usman. She was fuming with her fellow cast member because he called her a scammer on social media and further accused him of negatively influencing Michael's behavior. In her mind, Michael wouldn't have cheated on her had he not been hanging around Usman. In his defense, Usman hurled his accusations at Angela because she insinuated he was actually scamming Kimberly.
Fast forward to reunion day and the rest of the cast felt she was a diva because they had to wait on her to get the show started. Additionally, a few of the cast members feared Angela's large personality dominating the Tell All. Turned out that some of these concerns were valid.
As soon as Angela hit the stage, she went after Usman who was appearing via a video call. She launched some insults his way and he returned them in kind. While most of the other cast members sat by and watched her tantrum in shock and horror, Yara spoke up and advised her to have a seat.
Angela wasn't appreciative of the unsolicited advice, so she started verbally sparring with Yara, getting inches from her face. To her credit, Yara didn't seem to flinch with the Georgia reality star hovering over her yelling.
The Angela tirade concluded with her storming out of the reunion special, with Michael storming off his screen shortly thereafter. However, they both wind up returning.
Ed has been communicating with Rose
Despite Ed claiming he couldn't recall whether or not he had been in communication with his ex Rose since he's been with Liz, Rose made a surprise appearance at the Tell All and confirmed that Ed has reached out to her. Rose stated Ed had reached out to her requesting she talk to him via FaceTime. He even sent her a message insisting he wanted to visit her in the Philippines if she was open to the idea. By the way, some of this text messaging occurred a day before he proposed to Liz.
While most people in Ed's position may be apologetic to their fiancé, on stage in the moment of him being exposed, he seemed to grow indignant. He made flippant jokes and downplayed Liz's emotional response. Then as she stated she has no respect left for him, Ed demanded to receive her engagement ring back.
Somehow Ed's behavior became even more "detestable" as the cast took a break from the reunion stage and they all went out for drinks. As Ed was preparing to apologize to Liz for lying and being rude, things went left. He accused Liz of not having his back, of performing and of being a prima donna, prompting her to storm off.
Michael invited another woman to Nigeria
In the season 7 finale, viewers were taken aback to witness a tearful Angela play an audio clip of her husband confessing his love for this other woman. After all the arguments the two have had about trust, it was mind-boggling to hear Michael get caught in an act of betrayal. However, there was a little speculation that the voice on the recording was not actually him.
With that said, it was only natural that the now-infamous recording would be brought up at the Tell All. During part 2 of the reunion special, Shaun gets to the bottom of things and had Michael confirm that it was his voice on the audio clip. He further elaborated that the woman he was talking to was somewhat of a "fan" and that she was located in America. While he was adamant he didn't actually love this person, the rest of the cast and Angela didn't quite believe him.
As part 2 of the Tell All continued on, the 90 Day audience learned this was the tip of the iceberg. Not only had Michael been talking to this other woman, but he had been doing so while Angela was in Nigeria with him. Furthermore, he invited this mystery individual to spend Valentine's Day with him in his country. Needless to say, Michael had no one rallying behind him.
While Yara was recovering from surgery, Jovi was on an African Safari
During the beginning of season 7, Yara made it clear to Jovi that she wanted to have some cosmetic surgery on her breasts. He wasn't too keen on the idea and voiced his disapproval, but she was pretty determined to go through with her plans. As viewers recall, the matter seemed to fizzle as the couple had larger issues to address.
Well, in part four of the Tell All it was revealed Yara actually did have the surgery. However, the big shocker was that while she was recovering, Jovi went on a safari in Africa. That news didn't go over well with his fellow castmates.
Trying to defend his actions, Jovi argued his trip was planned prior to Yara scheduling her procedure, and he did stay with her for 10 days immediately after she had the operation (although according to Angela, the full recovery time is six weeks). Furthermore, Yara even defended her husband by saying she encouraged him to go, knowing it would make him happy.
Aside from a few on stage, these arguments fell on deaf ears.
Ed vs everyone
Just when you thought Angela would be the "villain" of the four-part Tell All, the rest of the three installments of the reunion saw Big Ed become quite the attack dog. He lashed out at everyone when he was called out on his poor behavior toward his possible ex Liz.
Let's see, he called Jovi a wuss (among some other profane choice words), insinuated a few of the women were gold diggers, got into a screaming match with Jenny, got into another screaming match with Kimberly and engaged in a heated discussion with Yara. Needless to say, Ed won't be receiving Mr. Congeniality for the season.
90 Day Fiancé: Happily Ever After? season 7 Tell All continues airing on Sundays at 8 pm on TLC and Discovery Plus.
Get the latest updates, reviews and unmissable series to watch and more!
Terrell Smith has a diverse writing background having penned material for a wide array of clients including the federal government and Bravo television personalities. When he's not writing as Terrell, he's writing under his pseudonym Tavion Scott, creating scripts for his audio drama podcasts. Terrell is a huge fan of great storytelling when it comes to television and film. Some of his favorite shows include The Crown, WandaVision, Abbot Elementary and Godfather of Harlem. And a fun fact is he's completely dialed into the TLC 90 Day Fiancé universe.
Thank you for signing up to Whattowatch. You will receive a verification email shortly.
There was a problem. Please refresh the page and try again.