Call the Midwife Christmas special – everything you need to know including CONFIRMED time it's on Christmas Day!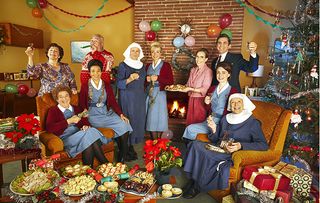 (Image credit: BBC/Neal Street/Nicky Johnston)
With Christmas getting closer, it can only mean one thing... it's almost time for Call the Midwife! Here's everything we know about the festive special so far, including the return of Trixie, whose troubles are well and truly behind her... and now we can confirm when it's being shown!
The Call the Midwife Christmas special promises to be one of the biggest highlights of BBC1's festive schedule.
While all the nitty gritty drama will be revealed as people digest their turkey and sprouts on Christmas Day, here is what we know about the festive special so far...
What's the plot of The Call the Midwife Christmas special?
It's Christmas 1963 in Poplar and the ever-busy midwives are rushed off their feet as the nuns head off to the Mother House and a horrified Sister Julienne (Jenny Agutter) hears she could be the next Mother Superior.
Thankfully, a refreshed Trixie (Helen George) is back to lend a hand when formidable Sister Mildred (guest star Miriam Margolyes) turns up with four Chinese orphans in need of TLC and plans are soon underway for a special Christmas Nativity. Other new faces include Fenella Woolgar as Sister Hilda and Ella Bruccoleri as Sister Frances.
What else happens in the Christmas episode?
The trailer, shown for the first time on Children in Need, has revealed that ex-army nurse Valerie Dyer - played by actress Jennifer Kirby - is enjoying a girlie night with her colleagues when there is a furious knock at the door.
The women all race to find out who so desperately needs their attention, only to find a panic-stricken father-to-be on their doorstep, worried about his wife who has gone into labour by a phone box.
Luckily, he's come to the right place and the women rush to his aid, with Valerie jumping into action and calling the shots... but that's definitely not the end of the drama for the women.
Jennifer, aka Valerie, has promised that the Christmas special is an "absolute corker," after watching it an early screening.
She also hints it's a pretty emotional affair, tweeting: "You'd think after three series, knowing everything that goes into the filming of a birth scene, I wouldn't cry *every single time* a baby pops out on screen. But I always do. I saw the Xmas spesh AND ep 1 today at the press launch. Absolute CORKERS."
We also know her character will lead a spot of baby ballet in the festive episode!
When will the Call the Midwife Christmas special be on?
This year's Call the Midwife festive special will be on BBC1 on Christmas Day at 7.45pm. The eighth season of the much-loved show is set to air in January 2019.
What do we know about season eight of Call the Midwife?
The eighth season will be set in springtime in 1964, with Britain eagerly anticipating the Queen's royal birth. While everyone is trying to guess whether the Queen will have a boy or a girl, there are two new Sisters who have been sent to live and work with the team in Poplar, leaving Nonnatus House feeling full once more.
Get the latest updates, reviews and unmissable series to watch and more!
Thank you for signing up to Whattowatch. You will receive a verification email shortly.
There was a problem. Please refresh the page and try again.