Coronation Street fans 'disgusted' as father of Amy Barlow's baby is finally revealed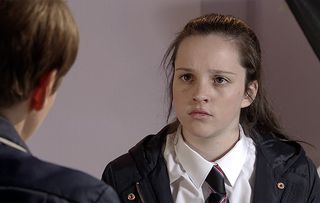 Coronation Street fans were left shocked last night when ITV bosses finally revealed who is the father of underage Amy Barlow's baby.
While Amy's cousin Simon Barlow and Dev's son Aadi Alahan were both in the picture, the truth was exposed when the teenager made a secret phone call with the dad who turned out to be gang leader Tyler Jefferies.
Fourteen-year-old Amy was seen making a call and the voice that answered asked "what do you want?"
"Don't hang up please," she said adding: "I'm pregnant with your baby. I'm not lying, I swear. I need to see you, please."
After Amy then asked to meet him, Tyler took off his hood and finally showed viewers his identity.
And it's fair to say fans of the ITV soap weren't very happy with the news and many took to social media to blast Tyler as 'disgusting.'
"Of all the lads in Weatherfield Amy, you picked Tyler #Corrie" blasted one.
Another agreed: "#Corrie Didn't think about Tyler. Horrible piece of work."
While a third said: "Ewww that Tyler is disgusting # Corrie," and a fourth added: "Can't wait to see the reaction on the Barlows faces when Amy told them Tyler is the father!"
Teenager Tyler previously terrorised Peter's son Simon after the pair broke into Flora McArdle's flat, and Simon turned him in to the police.
However, some fans are convinced the news of Amy's baby might make the thug change his ways to become a hands-on dad.
One viewer tweeted: "A baby could actually cause Tyler to grow up and stop being such an idiot like he has been."
But things are about to get even more dramatic on the cobbles next week as Amy's parents - Tracy and Steve - tell her that they are planning to adopt her baby and raise it as their own. But will she accept their plan?
Thank you for signing up to Whattowatch. You will receive a verification email shortly.
There was a problem. Please refresh the page and try again.