Everything you need to know about Golden Globes winner Claire Foy
Stockport actress Claire Foy won 'best performance by an actress in a TV series' at the Golden Globes in Los Angeles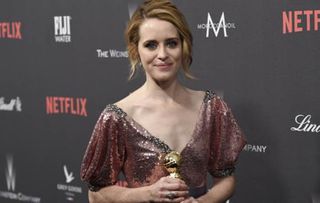 British actress Claire Foy first came to public attention in the BBC's adaptation of Charles Dickens's Little Dorrit, but it was her performances as two formidable queens that have cemented her place on the world stage.
She followed her turn as Anne Boleyn in the award-winning adaptation of Wolf Hall with a portrayal of a young Queen Elizabeth II in Netflix's glossy, big-budget The Crown, a performance that has earned her a Golden Globe award for best actress in a TV drama.
She beat off competition from fellow Netflix star Winona Ryder — for her role in Stranger Things, as well as Westworld actress Evan Rachel Wood, Outlander's Caitriona Balfe and The Americans star Keri Russell — to win the 'best actress in a TV drama' award.
Born in Stockport in 1984, Claire, 32, appeared in two of a trio of one-act plays directed by Paul Miller at the National Theatre in London, before she was cast as Amy Dorrit opposite Tom Courtenay and Matthew Macfadyen in the 2008 adaptation of Dickens' Little Dorrit.
She later starred opposite Nicolas Cage in Season Of The Witch and took on the role of Lady Persephone in the BBC's revival of Upstairs Downstairs, before teaming up with Wolf Hall director Peter Kosminsky to play a young woman who goes to present-day Israel/Palestine for The Promise.
Her performance as Anne Boleyn in Wolf Hall — opposite Damian Lewis and Mark Rylance — brought her a flood of critical praise and awards nominations, but her role as the Queen in The Crown catapulted her to the A-list.
The Hollywood Reporter (opens in new tab) hailed the Netflix show as a "starmaker" for Claire, while Variety (opens in new tab) praised her "clarity and phenomenal control".
Claire, who is married to Ashes to Ashes star Stephen Campbell Moore, is expected to return to the royal role for further installments of the Netflix drama. She will also be seen in drama Breathe, opposite Andrew Garfield, Diana Rigg and Hugh Bonneville.
The What to Watch team helps you find out the how, when, where and why of sports and entertainment. We provide a comprehensive guide to all the must-see movies and shows that are coming your way. Our expert recommendations will help you decide how to make the most of your viewing time and make informed choices on the best TV and home entertainment devices to buy.
Thank you for signing up to Whattowatch. You will receive a verification email shortly.
There was a problem. Please refresh the page and try again.