If Who Wants To Be A Millionaire? returns it won't be with Chris Tarrant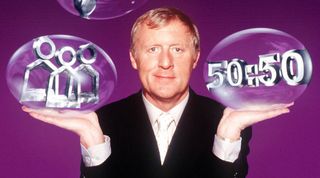 Chris Tarrant won't be returning to host Who Wants To Be A Millionaire? in a hurry if the show ever returns.
Tarrant, who hosted the popular quiz show for 15 years, declared: "All shows tend to get brought back eventually and they might well bring it back, but it will be with a different host – I wouldn't want to do it.
"Been there, done that."
Chris Tarrant and the bridge over the River Kwai (Channel 5)
Despite never wanting to front the show again, he does acknowledge its success.
"We did so many Millionaires," he said. "It was huge, but we did 600 odd shows and there was really nowhere else for us to go. I never miss anything, I didn't miss Tiswas, or Capital Radio."
Tarrant's new project is Channel 5's Extreme Railways, which sees him exploring railways across the globe.
Chris Tarrant presents Channel 5′s Extreme Railways (Channel 5)
In 2014 he suffered a stroke while on a flight from Thailand to London, during the filming of Extreme Railways.
"I am one of the lucky ones. I had some of the best medical care in the best hospitals. But 14 hours on a plane back from Bangkok was pretty scary," he says.
"I'm one of the survivors. I've changed my lifestyle a bit, stopped smoking, cut down on the booze, do a bit more exercise. It was a near death experience, but I'm having a good life."
Chris Tarrant's Extreme Railways screens at 9pm on Thursdays on Channel 5.
Get the latest updates, reviews and unmissable series to watch and more!
Thank you for signing up to Whattowatch. You will receive a verification email shortly.
There was a problem. Please refresh the page and try again.