Martin Lewis gives 6 tips to save money this Christmas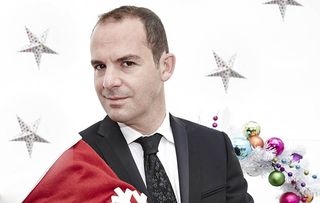 Martin Lewis wants you to have a happy and inexpensive Christmas!
Martin Lewis is well known for his ability to save people money and he reckons you should already be planning your Christmas spending.
On The Martin Lewis Money Show, which is available to watch on the ITV hub, the saving guru recently revealed some savvy festive tips.
And here Martin Lewis, 46, gives us some key Christmas money-saving tips…
1 BAN UNNECESSARY GIFTING
Yes, it's the season of goodwill but too many people feel pressured to buy gifts for an ever-growing range of family and friends - causing stress and costing a fortune. Don't do it! Agree with family to give money to charity instead, or go on a holiday together that you'll all enjoy. Christmas isn't about expensive presents. No one wants to be skint and depressed in January.
2 EARN CASHBACK ON YOUR CHRISTMAS SHOPPING
If you're going to spend money you may as well use a card that pays you for using it. The American Express Platinum credit card pays you 5% cashback on your first three months of spending, so get it now to cover the high Christmas-period spend. Only do this if you'll pay it off IN FULL each month, so there's no interest.
3. BE ONLINE SAVVY
A couple of weeks before you want to buy, go online and put items in your virtual basket – but don't checkout. In a week or so you might get a voucher sent to you, discounting the cost. The seller wants to get you over the finish line. In my next live show in November I'll tell you how to get the best Black Friday deals.
4 SET UP A CHRISTMAS CUPBOARD
Become a tactical shopper – work out now what you want to buy and pounce when you spot a bargain. Buy one Christmas item a week – using discount vouchers - and your cupboard will soon fill up, spreading the cost. With groceries, don't be seduced into buying upmarket, expensive brands. Many people think, "Ooh, I need to treat myself" and buy supermarket premium labels such as 'Finest' or 'Taste the Difference'. Get the normal, cheaper stuff you like and don't fall into the trap of thinking the expensive stuff is better. It can be, but not always.
5 BEWARE FESTIVE BOGOF'S
Buy-one-get-one-free offers are only useful if you need them. They're good for non-perishable items: a batteries BOGOF is great for Christmas time when you tend to need lots, but getting 28 tangerines when you'll only eat three is wasteful and doesn't save you money.
6 DELAY CHRISTMAS
Why fall slave to giving presents on December 25th? A lot of stuff is cheaper after Christmas so give your family IOU's on the day and with the money you save you can buy them an extra small gift for under the tree.
The Martin Lewis Money Show: Live - Festive Special is available to watch on ITV hub.
Get the latest updates, reviews and unmissable series to watch and more!
Thank you for signing up to Whattowatch. You will receive a verification email shortly.
There was a problem. Please refresh the page and try again.