TV today for Monday, September 19
Rolling coverage of Queen Elizabeth II's state funeral will dominate major broadcasters today.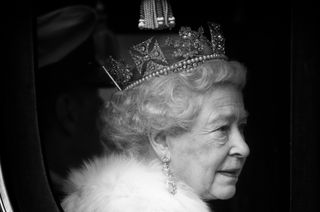 (Image credit: Getty Images)
On TV today, the schedules are dominated by coverage of the state funeral of HM Queen Elizabeth II. Please see below for information about how the main channels will follow every aspect of this sad and historical day.
For more information about what's on TV today see our TV Guide
What's on TV today
The State Funeral of HM Queen Elizabeth II, from 5 am, BBC/ITV/Sky News
On BBC One coverage of the state funeral of Queen Elizabeth II begins at 6 am with BBC Breakfast. At 8 am there's a special programme, The State Funeral of HM Queen Elizabeth II, which will bring live coverage and reflection on the day from Westminster Abbey and St George's Chapel in Windsor Castle. That will run until the news at 5 pm, followed by a special edition of The One Show: Our Queen Remembered. After a break for a showing of the film Paddington 2, The State Funeral of HM Queen Elizabeth II: Events of the Day will take viewers up to the news at 10 pm.
On ITV and across its digital channels the uninterrupted coverage also begins at 6 am with Good Morning Britain. At 9.30 am Tom Bradby and Julie Etchingham present Queen Elizabeth II: The State Funeral, which guides viewers through the events of this historical day. They will be joined by special guests and reporters at Westminster Abbey, Windsor, and at Wellington Barracks. Following the Regional and Evening News, at 7.30 pm a documentary film, Queen Elizabeth II: A Nation Remembers, will look back at the last extraordinary days. At 9 pm a second documentary film Queen Elizabeth II: The Final Farewell will reflect on this emotional and remarkable day and then Tom Bradby returns to present an extended News at Ten.
Sky News will also be following the events throughout the day, beginning at 5 am with Kay Burley live from Westminster Abbey. From 9 am to 2 pm Anna Botting will report on the funeral procession and 11 am service, while reporters Kamali Melbourne and Gillian Joseph chat to the crowds in Windsor and London and royal commentator Alastair Bruce provides expert analysis. From 2 pm Dermot Murnaghan will be live from Windsor Castle as Queen Elizabeth II is laid to rest in St. George's Chapel. From 7 pm Mark Austin will look back at the day before a round-up show at 9 pm. The News at Ten will come live from Buckingham Palace.
Other programming on today
Mastermind, 7 pm, BBC Two
Clive Myrie returns with the brainbox quiz as it celebrates its 50th anniversary. The specialist subjects in the first edition include Team GB at the 2020 Summer Olympics, Raymond Chandler's Philip Marlowe novels, the geography of Francisco de Goya and Peaky Blinders.
★★★ JL
Jamie's One-Pan Wonders, 8.30 pm, C4
Jamie has come in for some stick in recent weeks for cashing in on the cost-of-living crisis with his ideas for meals that can be cooked using one pot. But there is something to be said about reducing the washing-up and batch-cooking. Tonight, he serves up more simple but tasty family favourites with a trademark Jamie twist, including smashed lemongrass chicken and sweet potato chilli with home-made nachos. And a dessert of a chocolate party tray cake with a tinned mandarin and buttercream filling has a suitably retro vibe.
★★★★ NT
Britain's Greatest Obsessions, 9 pm, Sky History/NOW
Harry Hill's fun and informative series continues with a look at the pub. And who better as a guide than Suggs, whose mother pulled pints in a boozer in Soho and whose band, Madness, got their first break playing in one. Suggs talks to experts in venues such as Nottingham's Ye Olde Trip to Jerusalem, said to be the oldest pub in the world, and then discusses his findings with Harry and his team (Lorraine Kelly, Chris Packham, Liza Tarbuck and Reginald D Hunter). It's a cheerful, clubby gathering (and beerless!), but there's still a lot about pub culture that they just don't understand – like the attraction of pickled eggs, for instance.
★★★★ SM

Best box set to watch on TV tonight
Simon Reeve's South America, BBC iPlayer
The adventurer is in South America to complete an epic 4000-mile trip from Peru to Paraguay with five new episodes. As usual Reeve takes on a journey that isn't for the fainthearted, as he meets refugees, warlords and forgotten tribes. His new journey starts in the Guiana Shield, an area of pristine rainforest that spreads through Venezuela, Guyana, Suriname and French Guiana, which is being ravaged by the illegal gold mining trade. There, he visits a remote Wild West-style mining town where everything is paid for in gold, joins a former rebel fighter at his gold mine in the Suriname jungle and even raids an illegal mine with the French Foreign Legion. He also visits Brazil, Peru, Bolivia and Chile, finding extraordinary stories and meeting remarkable people along the way. Epic stuff.
Best film to watch on TV tonight
Paddington 2, 6.50pm, BBC One
The marmalade-loving bear from darkest Peru is back for his second big-screen adventure and it is every bit as joyously uplifting as its predecessor. Indeed, director Paul King's irresistibly charming sequel is even better than its predecessor, a true family movie classic. As before, astonishing CGI wizardry and Ben Whishaw's tender vocal performance do a magical job of conjuring the film's furry hero into believable existence. And his well-meaning bumbling is still causing hilarious slapstick havoc wherever he goes. The japes and pratfalls are almost worth the ticket alone, but they play their part in an engaging and exciting story that finds Paddington banged up in prison for theft while his family try to unmask the true culprit - a washed up West End star, played with scene-stealing gusto by Hugh Grant.
Soaps on TV tonight
Freelance writer and editor
Joanne Lowles has been writing about TV since 2002. After graduating from Cardiff University with a Postgraduate Diploma in Magazine Journalism, she worked for All About Soap magazine covering the ups and downs of life on the cobbles, the square and the Dales.
Next came nearly 10 years at TV Times magazine as a writer and then deputy features editor. Here she spent many happy days interviewing the biggest names in entertainment and visiting the sets of some of our most popular shows including Downton Abbey, Call the Midwife and Strictly Come Dancing.
With a love of nature and wildlife she's also interviewed the leading experts in this area including David Attenborough, Chris Packham and Steve Backshall. She's also travelled the world visiting Mongolia, Canada and South Africa to see how the best in the business make the most brilliant natural history documentaries.
Freelance since 2013, she is now is a digital writer and editor for What to Watch, previews the best on the box for TV Times mag each week and loves being constantly surprised, entertained and informed by the amazing TV that she is lucky enough to watch.
Thank you for signing up to Whattowatch. You will receive a verification email shortly.
There was a problem. Please refresh the page and try again.