What's on TV for Monday, Feb. 7
Day three of the Winter Olympics; a new episode of '9-1-1: Lone Star'; and 'Celebrity Big Brother' continues.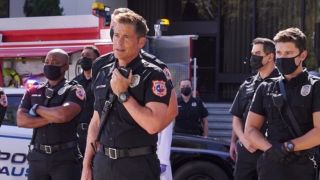 (Image credit: Fox)
Top Picks Tonight
Beijing Winter Olympics
Live coverage of the women's 500m final in short track, women's 1500m in speedskating, women's big air final in freestyle skiing, the men's super G in Alpine skiing during NBC's primetime coverage of the Winter Olympics.
Watch the Winter Olympics at 8 p.m. ET on NBC, as well as throughout the day on other NBCU channels and the Peacock streaming service.
9-1-1: Lone Star
Tonight on 9-1-1: Lone Star, Owen's first date with the beautiful and accomplished Chief of Staff to the governor of Texas goes awry. Meanwhile, the members of the 126 arrive at a house fire and realizes the couple's daughter is missing. Judd meets a teenager who has a profound impact on him.
Watch 9-1-1: Lone Star at 8 p.m. ET/PT on Fox.
Celebrity Big Brother
Celebrity Big Brother continues tonight with a new episode and another member of the celebrity cast possibly being voted out by their housemates.
Watch Celebrity Big Brother at 9 p.m. ET/PT on CBS.
4400
Tonight on a new 4400, Logan is the only witness to a savage crime, that, to all others does not seem to exist. Meanwhile, Claudette stands up to a group of anti-4400's and Mildred rallies the troops.
Watch 4400 at 9 p.m. ET/PT on The CW.
The Cleaning Lady
Tonight on The Cleaning Lady, when a party bus cleanup job takes a turn for the worse, Thony faces a difficult choice. Meanwhile, after all his efforts to secure a new business for Hayak, Arman is blindsided.
Watch The Cleaning Lady at 9 p.m. ET/PT on Fox.
Get the What to Watch Newsletter
The latest updates, reviews and unmissable series to watch and more!
Emily is a freelance writer based in San Francisco. She's exceptionally passionate about what she does and her tech background coupled with my work as a television news producer helps her bring to the table a unique set of skills that you won't find anywhere else. You can keep up with what she's watching now on Twitter @emily