EastEnders spoilers: Suki Panesar and Eve's affair secret EXPOSED!
Airs at 7:30 pm on Thursday 2 March 2023 on BBC One.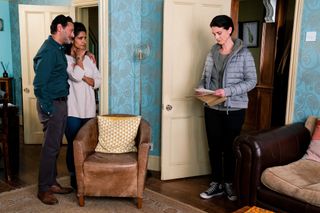 (Image credit: BBC)
Suki Panesar fears that her husband may know the truth in Thursday's episode of EastEnders (7:30 pm. see our TV Guide for full listings).
Suki Panesar is feeling on edge ahead of her marriage blessing with husband Nish Panesar. Matters have not been helped by the fact that Nish has rushed ahead with the blessing, giving her only a few days to prepare.
When Nish invites Eve Unwin to the ceremony, Eve is left in a dilemma. Although she doesn't want to put Suki in danger, the thought of watching the woman she loves commit herself to her marriage is tearing her apart.
Nish, meanwhile, is suspicious that Suki is up to something with Mitch Baker, after catching him leaving their house a few days before. Suki gave Mitch a job as a handyman for their tenants after he helped her out fixing a tap at home.
A jealous Nish is determined to keep Mitch away from his wife and he's been colluding with Ravi Gulati to ensure it happens. Overhearing the pair talking about Mitch, Suki is alarmed and she furiously confronts her husband.
A huge row breaks out between the pair but Suki is left rattled by Nish's words. She nervously reassures him that he's the only man for her. If only he knew the truth!
In fact, Suki's big secret about her affair with Eve seems ever on the brink of coming out and when Eve visits her, she's fuming.
Desperate for Suki to stand up to her husband and live the life she really wants, Eve begs Suki not to go ahead with the marriage blessing and admit that she still loves her.
Still in denial, Suki lashes out at Eve for trying to disrupt things but as they continue to argue they suddenly hear the front door slam...
Who has overheard?
Jack Branning is riled when he finds out that his daughter Amy Mitchell has overheard her friend Nugget Gulati's dad Ravi Gulati getting amorous with someone in the bedroom!
Furious with Ravi for setting a bad example to the kids, Jack flies off the handle as always and insists on going round to Ravi's to have it out with him.
Nervous about what may be revealed about her own dalliance with Ravi, Denise manages to stop Jack storming over there, saying she'll talk to him instead.
After finding Ravi in Walford East, Denise is left rattled when Ravi smugly tells her that she has nothing to worry about.
What is he plotting and what does he really want from her?
Howie Danes has been left in a bit of a predicament by son Denzel Danes, who's surprise entry into a Young Writers shortlist has threatened to unearth a deception!
In a bid to find a shortcut to writing the essay, Denzel used the plot of a TV show that he's been watching with Amy Branning.
After being interviewed by the Walford Gazette, Denzel panicked and made up a story that his inspiration was his grandparents' real life love story.
The journalist was so impressed that she convinced Howie into letting her interview them!
Now in a right pickle, Howie comes up with a plan with friend Rocky Cotton for him and Denzel to save face.
The pair ask Patrick Trueman and Vi Highway to pose as Denzel's granddad and grandma.
They agree to help him out but when the journalist turns up, will they be able to get their story straight?
Zack Hudson struggles in the wake of the impossibly sad baby news, as a devastated Whitney Dean shuts herself away.
Unsure what to do, he confides in Eve Unwin, who encourages him to reach out.
Whitney is grateful as he comforts her in her hour of need.
EastEnders continues on BBC One on Friday at 7:30 pm.
Get the What to Watch Newsletter
The latest updates, reviews and unmissable series to watch and more!