90 Day: The Last Resort — next episode info, trailer, cast and everything we know about the new 90 Day Fiancé spinoff
Some of the most well-known couples from the 90 Day universe are seeking help to fix their relationships.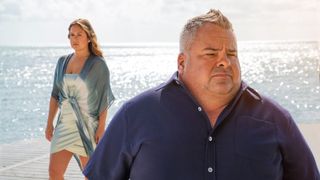 (Image credit: TLC)
The 90 Day universe continues to grow with the new spinoff series, 90 Day: The Last Resort. The show stars some of the most memorable couples from throughout the 90 Day Fiancé franchises, and follows them as they get professional help in trying to repair their relationships. As suggested in the title, the duos are hoping to do whatever they can to fix their issues in a last-resort effort before splitting up becomes a very real possibility in the near future.
So just who is featured in the inaugural season of the show? Here's everything we know about 90 Day: The Last Resort.
When is the next episode of 90 Day: The Last Resort?
90 Day: The Last Resort continues on with an eventful new episode. With Kalani and Asuelu's bombshells, Angela turning over a new leaf only to return to form with Liz and Ed being Ed, this series is certainly not short on fireworks.
The episode titled "Last Licks" airs on Monday, September 18, at 9 pm ET/PT. Here's a synopsis of what's to come:
"Kalani, Yara, Angela and Liz bond at a lingerie party, and Yara talks about her insecurities. Ed demonstrates one of his intimate skills. Kama Sutra therapy pushes one couple to their breaking point. Kalani reveals why she can't forgive Asuelu."
Check out this sneak peek of the episode:
Angela & Liz clear the air. 👙 Can they put their differences aside for the sake of girl time? Find out on an all new episode of 90 Day: #TheLastResort tonight at 8/7c. pic.twitter.com/Z2S4Ryj7kQSeptember 18, 2023
90 Day: The Last Resort trailer
Here is your trailer for the first season of the show, and we'll admit, the clip has us very interested in watching.
90 Day: The Last Resort cast
As of July 27, TLC announced the full cast of the first season of 90 Day: The Last Resort and the couples featured should make for an interesting show. Check out the list below, and be sure to take a look at our Meet the Cast piece where we examine the couples' journies.
"Jovi & Yara are very much in love with an undeniable attraction for one another, but over time resentment has grown and created an emotional divide. At the resort, they discover there is discord between them as they can't seem to agree on what they want for their future. While both have secrets they are holding onto, will the resort provide a place and time where they can finally thrive and reconnect as a couple moving forward?"
"Ed & Liz have found themselves in a cycle of make-ups and break-ups for the last 2 years. With dwindling trust and fear the other is looking for a way out, they are hoping to break down barriers and rebuild towards a new life…which holds the possibility of a new home and a potential wedding. Can Ed and Liz learn to back each other up and really communicate their needs to each other or will more indiscretions derail their efforts to plan for the future?"

"Angela & Michael are in love but the long-distance relationship has taken a toll on them over the last five years and now they find themselves worlds apart physically and emotionally. Loneliness has led them to make bad decisions and to be suspicious of one another. Can the retreat help them forgive, learn to trust again, bridge the gap in their communication and figure out how to stay close despite the distance, or will old habits die hard and ultimately lead to the end of Angela and Michael's relationship? "
"Kalani & Asuelu arrive at the resort in a state of relationship crisis. As they navigate their trust issues, huge revelations come to light. Trying to reconnect through therapy, can Kalani and Asuelu move past their indiscretions and find love again, not just for them but for the sake of their children?"
"Molly & Kelly have reached a point where they struggle to communicate. After a few short months of living together in Georgia, Molly and Kelly separated and are questioning if they really know each other at all. They actively work together to try to rekindle the romance. Will this retreat give them hope of finding their love again? "
Image 1 of 5
90 Day: The Last Resort premise
Here is the official synopsis for the series:

"Five 90 Day Fiancé couples have reached their breaking points. In a final attempt to salvage their relationships, each couple will participate in a couples retreat to determine whether or not they can heal old wounds. Alongside a team of professionals, they'll actively navigate issues with trust, sex, jealousy, anger and intimacy. Explosive group therapies, intense couples' sessions, past life regressions, unique on-and-off-resort activities and so much more ensue. At the end of the retreat, each couple must decide if they will stay together or move on, separately."
How to watch 90 Day: The Last Resort
Episodes of 90 Day: The Last Resort air live in the US on TLC. If you cut the cord to traditional cable/satellite television, TLC can be viewed on live-streaming services such as Fubo TV, Sling TV, Hulu with Live TV and YouTube TV. Episodes can also be streamed on Discovery Plus and Max.
We expect episodes to become available on Discovery Plus in the UK.
Get the What to Watch Newsletter
The latest updates, reviews and unmissable series to watch and more!
Terrell Smith has a diverse writing background having penned material for a wide array of clients including the federal government and Bravo television personalities. When he's not writing as Terrell, he's writing under his pseudonym Tavion Scott, creating scripts for his audio drama podcasts. Terrell is a huge fan of great storytelling when it comes to television and film. Some of his favorite shows include The Crown, WandaVision, Abbot Elementary and Godfather of Harlem. And a fun fact is he's completely dialed into the TLC 90 Day Fiancé universe.