Bali 2002: release date, cast, trailer episode guide and interview with Claudia Jessie
Bali 2002 — Claudia Jessie and Rachel Griffiths star in ITVX's new drama based on the real-life terrorist attacks in Bali.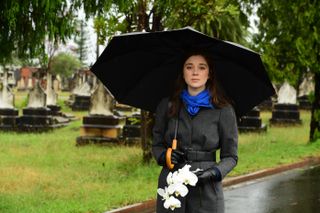 (Image credit: ITV)
Bali 2002 is a four-part dramatization about the internationally condemned terrorist attacks at two tourist hotspots in Indonesia that killed 202 people from 21 countries and left 209 injured.
The official synopsis from ITVX reads: "Bali 2002 is an inspiring and emotional four-part drama that explores how everyday heroes from Bali, Australia and beyond, defied the odds to bring order from chaos and hope from despair during the 2002 Bali bombings."
Here's everything we know about ITVX's new series…
Bali 2002 — release date
Bali 2002 is available on ITVX from Thursday, March 16, 2023.
It was released in Australia on September 25, 2022, on Stan and Network Nine.
Is Bali 2002 based on a true story?
Yes. Just over 20 years ago, on the evening of October 12, 2002, a terrorist attack took place in Bali killing and injuring hundreds of people. Three bombs were detonated — the first in a busy bar, the second outside a nightclub, and a third outside the US Consulate in Bali's capital city, Denpasar.
Bali 2002 focuses on the two attacks in the popular tourist nightspot of Kuta in Bali, Indonesia which was devastated by two explosions - the first was detonated by a suicide bomber at Paddy's Bar and was followed moments later by a car bomb outside Sari Club in an act of terrorism that killed 202 people from 21 countries and left another 209 injured.
Now, ITVX's four-part miniseries Bali 2002 explores the events surrounding the double bombing, focusing on victims, survivors, and the joint Australian-Indonesian quest to find those responsible.
The story is told with a large ensemble cast, led by Claudia Jessie and Rachel Griffiths, and using actual footage of the aftermath mixed throughout the dramatization.
ITVX says: "On October 12, 2002, the island paradise of Bali was shattered by a terrorist attack on two of Kuta Beach's busiest nightclubs. Both the local Balinese, and international tourists scrambled to escape, to rescue the injured and to comfort the dying.
"Australian and Indonesian authorities not only mobilized to evacuate survivors and identify victims but to hunt down those responsible.
"Amidst this chaos, heroes arose to defy the odds from the most unlikely places and cultures united in the search for healing, justice and meaning."
Is there a trailer for Bali 2002?
Yes, you can watch the horror of the explosions as they unfold in the trailer below...
Who stars in Bali 2002
Bali 2002 has a large international ensemble cast.
Claudia Jessie (Call the Midwife, Line of Duty, Bridgerton) plays real-life British newlywed Polly Miller, who's enjoying a night out with her husband Dan (Paul Michael Ayre, The Justice Lease) and eight friends when the blasts occur. Polly was the only member of her party to survive.
See the interview with Claudia Jessie below for more.
Acclaimed Australian actress Rachel Griffiths (Muriel's Wedding, Hilary and Jackie, Brothers & Sisters) stars as plastic surgeon Fiona Wood from episode two onwards. The Australian doctor helps orchestrate a swift response to the atrocity and advocates treating evacuated burns victims with her pioneering 'spray-on' skin treatment.
Richard Roxburgh (Rake, The Crown, Elvis) and Srisacd Sacdpraseuth (The Straits, The Code, Mystery Road) star as Graham Ashton and General Made Pastika, who headed up the joint Australian-Indonesian investigation into the harrowing atrocity.
Arka Das (Top of the Lake, Bite Club, Shantaram) and Amali Golden (Harrow, Wakefield, La Brea) portray real married medics Vij Vijayasekaran and Priya Thalayasingam. The Australian doctors are holidaying in Bali when the bombs explode, they help save lives and evacuate the worst affected casualties to Australia. Vij is a colleague of Perth-based plastic surgeon Fiona Wood and works alongside her on his return to Australia.
TV newcomer Sri Ayu Jati Kartika plays young Balinese mother, Ni Luh Erniarti. She is frantic when her husband, Gede Badrawan (Thirteen Lives star Gerwin Widjaja), fails to return home from his shift at the Sari Club and begins searching for him.
Bali 2002 also stars Sean Keenan (The Power of the Dog), Ewen Leslie (The Luminaries), Elizabeth Cullen (Darby and Joan), William Lodder (Love Me) and Sophia Forrest (Barons).
Bali 2002 — Claudia Jessie interview
Claudia, why did you want to be involved in this series?
"Getting to tell a true story feels like a rare opportunity, for me at least, as I've never done it before. And with it being the 20th anniversary in 2022, I knew how much it would mean to people. Alongside that, I would have deeply regretted not seizing on such a fantastic opportunity to play such an incredible woman."
Was there an added responsibility because the drama is based on true stories?
"Given the nature of the story, we all wanted it to be good and to do our best. It was handled with so much respect across the whole project, from start to finish. As a team, you want to be respectful and to be as true to it as possible."
Could you tell us about Polly Miller?
"Polly has been married for five weeks, and she and her husband, Dan, fly out to Bali, a place they've been to before which they loved, and, unthinkably, get caught up in the tragic events that took place in 2002. The real Polly [who is now Polly Brooks] was the only person in her group to survive."
Were you able to talk to Polly as part of your research?
"Yes, we spoke on Zoom, texted and emailed each other. I imagine Polly gets asked questions a lot and has to relive things about that time and I didn't want her to have to do that again. The only two specific questions I asked were, 'Tell me what you do want to see', and, 'Tell me what you don't want to see'. The rest was us getting to know each other.
"She's an incredibly funny, quick-witted and very successful businesswoman, who I got along with well."
How much did you know about the Bali bombings before you started filming?
"I knew about them, but not in great detail. My mum and family friends had more of an understanding of the Bali attacks through experience and memory, whereas it was something I learned more about once I discovered I had the role.
"It's hard to express how awful it was. The strategy of how they intended to hurt and kill people was awful to learn. It's so unthinkable that anyone would want to cause such harm to others."
Which scene in the drama stands out for you?
"The scene that stayed with me most is after the bomb has been detonated. We have the build-up of Polly, Dan and their friends having a wonderful evening, not expecting anything like this to happen, then there's the scene after that. It was choreographed for safety, but when the cameras started rolling a lot of us were crying because it was so horrific."
Polly suffered burns to 43% of her body. How did you approach that aspect of her story?
"She's in so much pain but adrenaline is there and adrenaline removes pain, as does pain medication. It's a lot to get across, so sometimes you have to do a little bit less, I think.
"With the sets, the supporting artists and the hair and make-up, it feels like 70% of the work has been done for you. Also, Peter Andrikidis [Janet King, Pulse, Harrow] is such a warm director. He was so supportive and was keen to talk with me about any concerns I had."
Why do you feel this is an important story to tell?
"There's that saying, 'If you don't know history then you're destined to repeat it.' We wanted to show the heart of these heroes who were lost or lived through it. People are capable of doing horrible things, but then there are all these people who are capable of doing beautiful, giving, compassionate things. We really wanted to show these communities and people who take care of others with such a rapid response. Sadly, there's no light without dark; things like this are a reminder of what we can be to, and for, each other."
Bali 2002 — episode guide
Episode information from ITVX's Bali 2002 Press Pack
Bali 2002 - episode 1:
'Island of the Gods'
On the night of October 12th, 2002, two suicide bombs rip through Paddy's Bar and the Sari Club in Kuta, Bali. Many are killed and even more badly injured, including local Balinese and tourists from around the world. Among the injured are UK citizen Polly Miller, who is recently married and on her honeymoon, and Australians Nicole McClean, Jason McCartney and Jono Liddel.
First responders and volunteers race to the crime scene, desperate to help and to extinguish the huge fires that have been ignited by the bombs. On the outskirts of Kuta, a young Balinese mother, Ni Luh Erniarti, begins to worry that her husband, Gede, has not returned from work at the Sari Club.
Hundreds of injured people are transported in cars, trucks and ambulances to the medical clinics and hospitals in and around the Balinese capital, Denpasar. Among the volunteer medics are Australian doctors Vijith Vijayasekaran and his wife, Priya, who have been holidaying in Bali.
The Australian Defence Force is sent to evacuate the injured and repatriate them to Australian hospitals and Australian Federal Police Commander, Graham Ashton, is called upon to lead a contingent of Australian police being sent to Bali to investigate what happened and who is responsible.
Bali 2002 - episode 2:
'From the Ashes'
Rachel Griffiths is introduced as burns specialist Fiona Wood who in 1995, with her colleague, Marie Stoner, developed a controversial new treatment for treating burn victims – spray-on skin.
When the suicide bombings occur in Kuta in 2002, Vij contacts Fiona at Royal Perth Hospital and tells her to prepare for the admission of many more patients than the burns unit is equipped to accommodate. Fiona acts quickly, putting her busy family life on hold and securing resources required for what lies ahead.
On the other side of Australia, doctors work hard to save the lives of Polly Miller and Nicole McClean, who fight for their lives.
In Bali, Graham Ashton is reacquainted with his former colleague, Balinese police chief General Made Pastika. Together they and their teams painstakingly piece together the events that led to the bombings, although there is tension between the two investigative units as issues of jurisdiction and responsibility emerge. The Australian and Indonesian police get a break in the investigation when they find a motorbike used to transport two of the bombers to the crime scene.
Elsewhere, Ni Luh begins to understand that Gede will probably never come home. Meanwhile, twenty-eight victims are transported to Royal Perth Hospital and placed under the care of Fiona and her team, which includes Doctor Vij, who has returned to Australia. Most of the Bali bombing victims recover quickly, but sadly not everyone makes it…
Bali 2002 - episode 3:
'Operation Alliance'
The Australian and Indonesian investigative teams continue their work, piecing together the forensic clues left behind by the bombings. Within days, they realise that the blasts were caused by suicide bombs and, following the evidence trail that led to the motor bike being left at the mosque, trace the van used in the bombings to three brothers in Java – Amrozi, Imron and Mukhlas.
Nicole McLean's condition improves but her injured right arm cannot be saved. She is informed that her arm must be amputated if she is going to survive.
After being airlifted to Alfred Hospital in Melbourne, it becomes apparent that Jason McCartney may not survive his injuries. Jason survives and becomes determined to play football again in honour of all the football players who were killed in Bali. He goes through tough rehabilitation regime and makes a triumphant return to the football field, playing for his beloved North Melbourne Kangaroos. The nation stands and applauds his courage when he scores a goal in his last ever professional game.
Ni Luh is finally given a small box of her husband's remains, Ni Luh's Hinduism dictates that she must cremate Gede's remains in order to release his spirit to the Gods but she is almost destitute and has no money for the cremation.
Amrozi, Imron and Mukhlas are arrested in Java where it becomes clear that they were foot soldiers in the terrorist attack. Graham Ashton and Made Pastika are led to the organiser of the bombings, Imam Samudra, who reveals that the bomb maker – an academic named Doctor Azahari – is still at large.
Bali 2002 - episode 4:
'Restoring the Balance'
A week after the terrorist bombings, Polly Miller wakes in a Brisbane Hospital where her mother has the heart-breaking task of telling her daughter that Dan, her husband of just five weeks, and eight of her friends were all killed in the blasts. She is the only person from her group of friends who survived.
Determined not to let her loss overwhelm her, Polly returns to work in London on the eve of the bombers' trial in Bali. She has no interest in the fate of the men who turned her life upside down and puts all her energy into her work.
There are tense and chaotic scenes in Denpasar as Amrozi, Imron, Mukhlas and Samudra are led into the courthouse for their trial. Having caused so much harm to the local community, the Balinese are very angry with the bombers – none more so than Ni Luh Erniarti who explodes in fury at the defiant terrorists and is asked to leave the court.
Bambang Priyanto, a Balinese Muslim who helped to rescue many people from the wreckage of the bombings gives a tearful impact statement to the court and accuses the bombers of betraying Islam.
In Melbourne, Nicole McClean comes to terms with life without her right arm. Luke Beasley declares his feelings and she realises she has found the love of her life.
The Australian and Indonesian police track down Dr Azahari to a small town in Java. When he is cornered by Indonesian police in a crowded market with a bomb in his backpack, he is allowed to escape in order to save more innocent lives. Graham Ashton is forced to defend the reputation of the Indonesian police when the Australian government questions the Indonesians' commitment to Azahari's capture.

Polly Miller finds it increasingly difficult to put the trauma of the bombings behind her. When she sees Hanabeth Luke, a survivor of the bombings, confront Tony Blair on national television over the wisdom of the Iraq invasion, Polly begins to feel like she can never escape the past. And when she starts seeing apparitions of her dead husband, Dan, she realises she must change her life if she is ever going to recover emotionally.
With the help of Bambang Priyanto and other women who were widowed by the Bali bombings, Ni Luh starts a sewing co-op and, with the money she is able to earn, finally lays her husband to rest in a cremation ceremony, releasing Gede's spirit to the Gods.
Dr Azahari is finally surrounded by an Indonesian task force in a Javanese safe house where he is preparing more bombs. In a deadly shoot out, Azahari is killed. Back in Australia, Graham Ashton is deeply upset by the idea that the Australian government may have been warned about the possibility of the bombings.
Bali 2002 — additional information from ITVX
Bali 2002 is co-produced by Banijay labels Endemol Shine Australia and Screentime for Stan and 9Network in Australia, and distributed internationally by Banijay Rights, the series was developed in consultation with those directly impacted by the tragedy.
Get the What to Watch Newsletter
The latest updates, reviews and unmissable series to watch and more!
Writer for TV Times, What's On TV, TV & Satellite Week and What To Watch
With twenty years of experience as an entertainment journalist, Elaine writes for What's on TV, TV Times, TV & Satellite Week and (opens in new tab)www.whattowatch.com (opens in new tab) covering a variety of programs from gardening and wildlife to documentaries and drama.
As well as active involvement in the WTW family's social media accounts, she has been known to get chatty on the red carpet and wander into the odd podcast.
After a day of previewing TV, writing about TV and interviewing TV stars, Elaine likes nothing than to relax… by watching TV.