Best family movies on Tubi TV
Here's a full slate of family movies on Tubi TV that both parents and kids can enjoy.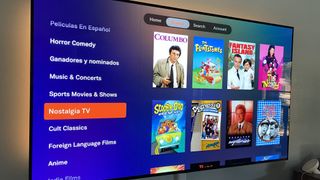 (Image credit: WhatToWatch.com)
Movies can be a helpful tool when you just need to have your kids preoccupied for 90 minutes. But, when you actually want to enjoy a movie with them, it's nice to have options on family movies that both parents and kids can enjoy. Tubi TV has a healthy library of films to meet that need.
The free, ad-supported Tubi TV streaming service, as part of its thousands of hours of movies and TV shows available, features hundreds of family-friendly titles, including some that the parents may have grown up with and want to share with their kids, or newer titles that they can discover together.
Take a look at some of the best family movies that are currently available on Tubi TV.
A Christmas Carol (1984)
Charles Dickens' classic Christmas tale has been adapted too many times to count (there's even one that stars Mickey Mouse), but one of the most well regarded versions of A Christmas Carol features George C. Scott as Ebenezer Scrooge.
The Oscar-winning Scott gives one of the best performances as the penny-pinching miser Scrooge, who has his viewpoint on Christmas and charity changed when he is visited by three spirits on Christmas Eve. David Warner, Angela Pleasance, Edward Woodward and Roger Rees also star in this Clive Donner directed tale.
It may not yet be the Christmas season, but it never hurts to take a lesson from the changed Scrooge and keep the spirit of Christmas in your heart the whole year round.
Little Giants (1994)
It's football season, which means there's no better time to watch Little Giants. This great '90s comedy stars Rick Moranis as the head coach of a peewee football team made up of charming misfits who practice to beat their town's elite team, coached by the big brother of Moranis' character, played by Ed O'Neill.
Moranis and O'Neill are great foils for each other in Little Giants, while the kids playing football are funny and endearing. You also have great cameos from John Madden and at-the-time NFL players. And who could forget the classic play, the annexation of Puerto Rico.
The early '90s were a golden age of kids sports movies, and Little Giants stands tall among any of them.
The Preacher's Wife (1996)
Penny Marshall directs The Preacher's Wife, a remake of The Bishop's Wife, a film from the 1940s that starred Cary Grant. The story is essentially the same — an angel is sent to help a preacher who is having a crisis of faith and struggling to connect with his family — but the film swaps out Grant for Denzel Washington, who stars alongside Whitney Houston and Courtney B. Vance.
The Preacher's Wife has become a holiday staple, highlighted by Houston's memorable performance of "I Believe in You and Me" in the film. But that's just the icing on the cake of this film that sees its leads effortlessly charm you.
Red Dog (2011)
Red Dog is a very, very good boy, bringing together an entire Australian community as he searches for his lost owner. The movie is actually based on a real life story of a dog that has become a legend in Australia.
The humans involved with Red Dog include Josh Lucas, Rachael Taylor, Keisha Castle-Hughes, Noah Taylor and more.
Sabrina the Teenage Witch (1996)
Every '90s kid will remember the TV series Sabrina the Teenage Witch, but that show was actually preempted by a TV movie version starring Melissa Joan Hart.
The plot is generally the same, with Sabrina turning 16 and learning from her aunts that she is actually a witch. With her newfound abilities, she attempts to make high school just a little bit easier.
Hart starred alongside Sherry Miller and Charlene Fernetz as her aunts, while a young Canadian named Ryan Reynolds played the love interest.
Secondhand Lions (2003)
Hollywood legends Michael Caine and Robert Duvall teamed up for the first and only time in Secondhand Lions, a story of a teenage boy who is sent to live with his uncles in Texas. Knowing little about them, the boy soon discovers that they are actually quite the eccentrics, with fantastic stories of adventure from when they were younger. Haley Joel Osment co-stars in the film.
Shrek Forever After (2010)
The Shrek franchise took the movie world by storm with its memorable characters played by Mike Myers, Eddie Murphy and Cameron Diaz. The conclusion of Shrek's story comes in Shrek Forever After.
As Shrek and Fiona settle into their life as parents, Shrek longs for the days when it was just him and his swamp. When Rumpelstiltskin tricks Shrek into a deal that puts him in an alternate timeline where he never existed, our favorite ogre must fight to reclaim the things that he realizes matter most to him.
The Slipper and the Rose (1976)
Cinderella is a timeless tale, and one that we get a lot on screen (including this year with Amazon Prime Video's Camilla Cabello starring Cinderella). An underrated adaptation of the classic fairy tale is The Slipper and the Rose.
We all know the story, the neglected Cinderella falls for the young prince and is able to live happily ever after. The Slipper and the Rose distinguishes itself though with lauded performances from Annette Crosbie as the Fairy Godmother and Michael Hordern as the king, as well as an original score and songs from Robert and Richard Sherman, who had previously worked on the classic musical Mary Poppins.
Try on this glass slipper to see if it fits for you.
The Thief of Bagdad (1940)
Before Aladdin, there was the story of Abu, who had an amazing adventure involving an evil sorcerer, a genie and a magic carpet. The Thief of Bagdad is not only an enjoyable fantasy tale, but its effects were revolutionary for audiences in the 1940s.
The story of The Thief of Bagdad begins as King Ahmad is tricked into being banished from his kingdom by Jaffar. Ahmad then joins forces with Abu, a young thief, and together they work to reclaim Ahmad's throne, the city and the princess that he loves.
The Thief of Bagdad stars Sabu, John Justin, Conrad Veidt, June Duprez and Rex Ingram as the genie Djinn.
Michael Balderston is a D.C.-based entertainment writer and content producer for What to Watch. He previously has written for TV Technology and Awards Circuit.
Get the latest updates, reviews and unmissable series to watch and more!
Thank you for signing up to Whattowatch. You will receive a verification email shortly.
There was a problem. Please refresh the page and try again.