Best family movies on Tubi TV
Here's a full slate of family movies on Tubi TV that both parents and kids can enjoy.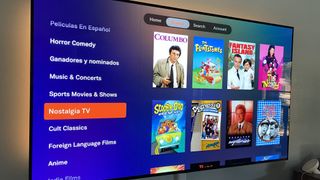 (Image credit: WhatToWatch.com)
Movies can be a helpful tool when you just need to have your kids preoccupied for 90 minutes. But, when you actually want to enjoy a movie with them, it's nice to have options on family movies that both parents and kids can enjoy. Tubi TV has a healthy library of films to meet that need.
The free, ad-supported Tubi TV streaming service, as part of its thousands of hours of movies and TV shows available, features hundreds of family-friendly titles, including some that the parents may have grown up with and want to share with their kids, or newer titles that they can discover together.
Take a look at some of the best family movies that are currently available on Tubi TV.
E.T. the Extra-Terrestrial (1982)
Steven Spielberg's little alien has found his way into film history, serving as not only an all-time classic family film but able to hold its own with just about any entry in Spielberg's filmography.
E.T. is the story of a lost alien who befriends a lonely boy and his family. The two form a deep bond and the boy must ultimately help E.T. try and find his way back home.
Spielberg infused E.T. with an incredible balance of humor, heart and even some frights that makes the film work for any age. Throw in a couple of iconic shots and an incredible John Williams' score and you have a classic.
Looney Tunes: Back in Action (2003)
The Looney Tunes most memorable big screen experience came with 1996's Space Jam (we'll see how Space Jam: New Legacy stacks up soon), but Bugs and company had another big screen adventure in Looney Tunes: Back in Action.
Rather than a sports movie, Looney Tunes: Back in Action is an adventure-comedy starring Brendan Fraser, Steve Martin, Jenna Elfman and Timothy Dalton as the humans alongside the cartoons as they go searching for a mystical treasure.
Looney Tunes: Back in Action is on the sillier side, but what else would you expect from a movie featuring the Looney Tunes.
Nancy Drew and the Hidden Staircase (2019)
Classic literary sleuth Nancy Drew got a modern day update in Nancy Drew and the Hidden Staircase. Sophia Lillis (It) takes on the title role as she tries to solve a mystery revolving around a supposedly haunted house in the town that she just moved to.
Paddington (2014)
The literary bear named after the famous London train station made his big screen debut in 2014, and what a debut it was. Paddington follows a young Peruvian bear that loves marmalade and travels to London, finding a home with the kindly Brown family. Of course, antics ensue but overall the family welcomes their new member.
Paddington delivered a simple message about treating everyone with kindness. That message with the film's earnestness made it a smash hit with audiences and critics (it earned two BAFTA nominations) and one of most successful kid movie franchises of the 21st century so far.
Red Dog (2011)
Red Dog is a very, very good boy, bringing together an entire Australian community as he searches for his lost owner. The movie is actually based on a real life story of a dog that has become a legend in Australia.
The humans involved with Red Dog include Josh Lucas, Rachael Taylor, Keisha Castle-Hughes, Noah Taylor and more.
Sabrina the Teenage Witch (1996)
Every '90s kid will remember the TV series Sabrina the Teenage Witch, but that show was actually preempted by a TV movie version starring Melissa Joan Hart.
The plot is generally the same, with Sabrina turning 16 and learning from her aunts that she is actually a witch. With her newfound abilities, she attempts to make high school just a little bit easier.
Hart starred alongside Sherry Miller and Charlene Fernetz as her aunts, while a young Canadian named Ryan Reynolds played the love interest.
Surf's Up (2007)
If you thought March of the Penguins covered the entire world of penguins, think again. Surf's Up takes a deep dive into how penguins invented surfing and where the sport is today. That's the premise of Surf's Up at least, the 2007 animated film that follows a young penguin who looks to make a mark for himself in a major penguin surfing competition.
Shia LaBeouf voices the lead character, with Jeff Bridges, Zooey Deschanel, Jon Heder, James Woods and actual surfing legend Kelly Slater also lending their voices.
The Thief of Bagdad (1940)
Before Aladdin, there was the story of Abu, who had an amazing adventure involving an evil sorcerer, a genie and a magic carpet. The Thief of Bagdad is not only an enjoyable fantasy tale, but its effects were revolutionary for audiences in the 1940s.
The story of The Thief of Bagdad begins as King Ahmad is tricked into being banished from his kingdom by Jaffar. Ahmad then joins forces with Abu, a young thief, and together they work to reclaim Ahmad's throne, the city and the princess that he loves.
The Thief of Bagdad stars Sabu, John Justin, Conrad Veidt, June Duprez and Rex Ingram as the genie Djinn.
Michael Balderston is a D.C.-based entertainment writer and content producer for What to Watch. He previously has written for TV Technology and Awards Circuit.
Get the latest updates, reviews and unmissable series to watch and more!
Thank you for signing up to Whattowatch. You will receive a verification email shortly.
There was a problem. Please refresh the page and try again.