Best LGBTQ+ shows and movies to watch on Apple TV Plus
There are some good quality LGBTQ+ shows to enjoy on the Apple TV+ streaming service.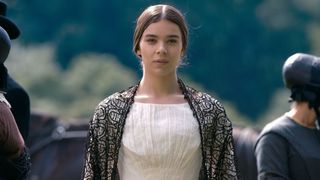 (Image credit: Apple TV)
When folks say "representation matters," it's not meant to be a buzz phrase. The importance of LGBTQ+ stories on screen can't be understated, and their relevance expands past the people they portray on screen. For the community itself, the significance of seeing ourselves on screen can be critical in our acceptance of ourselves and our own identities. But reaching those outside of the community is critical as well. The more we include LGBTQ+ characters in media, the more they begin to be viewed as the social norms.
Since its inception, Apple TV Plus has gone out of its way to bring its viewers some of the most compelling stories available on streaming. So far as LGBTQ+ content goes though, Apple's streaming platform has written itself into the same corner as Disney Plus — there's just not much of it to be found. Even implicitly queer media is rare on the platform, with explicitly gay content even rarer.
That critique aside, Apple TV Plus does have some exceptional series to choose from.
Dickinson
"Emily Dickinson was born in 1830 in Amherst, MA. She lived throughout her life in her father's house. Near the end of her life, she rarely left her room. Aside from a few mostly anonymous verses, she remained unpublished. When she died her poems were discovered. Some of the strangest, most fascinating poems ever written. Almost 2000 of them, hidden, in a maid's trunk."
Dickinson stars Hailee Steinfeld as the titular character. She's a poet, a daughter, and a total rebel. Season 1 of the series acts as a kind of coming-of-age story highlighting Emily's determination to become the world's greatest poet. If you need an idea of the characterization before hopping in, this version of Emily Dickinson lives by the motto "if the rules aren't fair, break them." The series explores and portrays Emily's intense relationship with Susan Gilbert, who she was best friends with before Susan married her brother. Emily explores homoerotic themes in her writing and might even end up experimenting with Susan before the first season of the series concludes.
This show is a highly dramatized exaggeration of the real-life of Emily Dickinson and is not historically accurate. Although it's set in the 1830s, it incorporates the use of modern-day music and a ridiculously good list of guest stars. It features excellent cinematography, is incredibly funny, and wildly entertaining.
Severance
With 14 Emmy nominations and two wins, Severance is one of the most critically-acclaimed series on Apple TV and on this list. Apple describes the synopsis of the series as the following:
"From director and executive producer Ben Stiller and creator Dan Erickson comes Severance. Mark Scout (Adam Scott) leads a team at Lumon Industries, whose employees have undergone a severance procedure, which surgically divides their memories between their work and personal lives. This daring experiment in 'work-life balance' is called into question as Mark finds himself at the center of an unraveling mystery that will force him to confront the true nature of his work… and of himself."
Featured in the series are a couple of characters that are considered to be a part of the LGBTQ+ community. Irving and Burt (John Turturro and Christopher Walken) are two men that explore their love feelings for one another during the course of the show. Their relationship is quite special in that it's one of the few gay pairings on television that reflects men of a particular age.
Schmigadoon!
Star-studded musical comedy Schmigadoon! will be loved by all musical theatre lovers as it's a glorious parody of the iconic Golden Age of musicals, starring Cecily Strong and Keegan-Michael Key. The six-part toe-tapping romp, which gently sends up the premise of the 1947 Broadway show Brigadoon, follows on/off couple Melissa and Josh who stumble across a magical town that seems to be set in a 1940s musical.
Saturday Night Live stalwart Cecily Strong and Keegan-Michael Key (Fargo, Parks and Recreation) play Melissa and Josh, a couple on a backpacking trip designed to reignite their failing relationship, who arrive in the magical town living in a 1940s musical. It's all fun, nostalgia and big musical hits, but then there's a catch — they can't leave the town until they find "true love".
There will be a second series that parodies yet another musical but as yet Apple TV+ are yet to announce it!
Mythic Quest
Into workspace comedies? Mythic Quest is exactly the kind of show for you. Think of it as The Guild meets The Office, but with its own unique jokes sprinkled in for good measure. The series follows the team of the (fictional) video game studio, Mythic Quest as they head into the release of a major expansion of their title game. The release of Raven's Banquet leads to all sorts of shenanigans between the team, including a decent amount of (mostly good natured) friction between the game's creator, Ian Grimm (Rob McElhenney) and his engineer and head writer, Poppy Li (Charlotte Nicdao) and C.W. Longbottom (F. Murray Abraham), respectively.
The series is obviously not focused on queer-coded issues, but it does feature an LGBTQ+ lead character. Mythic Quest: Raven's Banquet's game tester, Rachel (Ashly Burch) is a lesbian. It's not one of those "hinted at" stories, either. Rachel mentions a crush on another woman in the series pilot and is explicitly identified as a lesbian in the third episode, "Dinner Party".
Little Voice
Little Voice has a pretty "simple" premise according to Apple TV Plus' synopsis: The series explores "the universal journey of finding your authentic voice in your early 20s. It is described as a fresh, intensely romantic tale of the search to find your true voice...and then the courage to use it." With vague plot similarities to the film, of the same name, starring Jane Horrocks, Little Voice manages to be a respectable entry into the romantic dramedy genre.
One of the series' strongest swings is with its character Prisha (Shalini Bathina). Despite her family's traditional values, the character bravely announces that she's gay before the season comes to a close. When she's forced on a date with "respectable Indian boy" Sundeep (Gopal Divan), they both admit that they're interested in other people. For Prisha, that's her bandmate Ananya (Nadia Mohebban).
Visible: Out on Television
Visible: Out on Television is a powerful docuseries about the history and representation of LGBTQ+ people on TV, both on-screen and behind the camera, from the beginning of TV to the present day. It touches on the importance of TV as a medium that has shaped American consciousness through the decades, and how the LGBTQ+ movement has influenced what we see on TV today.
The history of how our LGBTQ+ community has been portrayed on-screen (and off) is fascinating. This series starts in the "Dark Ages," when LGBTQ people were portrayed as murderers, sexual deviants, and all-around evil characters in early TV. It wasn't until the 1970s that positive portrayals of LGBTQ+ people began to emerge. It then goes on to talk about how LGBTQ activists began using television as a tool for change, followed by how the HIV/AIDS epidemic was initially ignored by TV, and fear of the disease stunted LGBTQ representation. Eventually, TV was able to raise awareness of the seriousness of the HIV/AIDS health crisis.
It is incredibly moving, informative, and an important docuseries that everyone should see. Directed by Ryan White, it features actors/activists/famous figures like Wanda Sykes, Margaret Cho, Anderson Cooper, Ilana Glazer, Abbi Jacobson, Ellen DeGenerous, Billy Porter, Tim Gunn, Carson Kressley, Andy Cohen, T.R. Knight, and Jesse Tyler Ferguson (to name a few). There are five episodes available to stream now on Apple TV+. Make sure to grab your Kleenex because this series will make you want to cry, scream, laugh, and rejoice at how far we've come, and how far we have yet to go.
Entry written by Nicolette Roux.
Dear...
This show is about how the inspiring story of how a single person can change the world. This series was created by R.J. Cutler, and profiles famous icons and the people whose lives they've inspired by way of a written letter, hence the title. It features appearances by Jane Goodall, Spike Lee, Stevie Wonder, Oprah Winfrey, Misty Copeland, Yara Shahidi, Big Bird, Gloria Steinem, Aly Raisman, and Lin-Manual Miranda, and is bound to inspire and motivate you to overcome adversity and reach for the stars.
Although not LGBTQ+ per se, this series features game-changers that are beacons of hope and symbols of what is possible. "If one person tells their story, that allows other people to tell theirs." You'll watch these heavy hitters talk about their struggles, their triumphs, and how they beat all odds to become some of the most credited, loved, and recognized trailblazers in their given fields.
Entry written by Nicolette Roux.
Little America
Little America takes an in-depth look at the endearing, romantic, heartfelt, inspiring, and unexpected stories of the lives of immigrants in America. The season finale tells the story of a gay Syrian refugee, and how he dreams of being granted asylum in America so he can live openly as a gay man.
Being LGBTQ+ is extremely difficult in Syria. People living in the Syrian Arab Republic may face legal challenges not experienced by non-LGBTQ+ residents. Article 520 of the penal code of 1949 prohibits "carnal relations against the order of nature," and violators can receive up to three years in prison. In territories controlled by the Hayat Tahrir al-Sham, which controls around 7% of Syria, LGBTQ+ people are arrested, beaten, and executed. Little America tells an inspirational story about overcoming oppression and seeking the American dream.
This is an excellent series but, note, only the finale features an LGBTQ+ person. The rest of the series focuses on immigrants and their stories.
Entry written by Nicolette Roux.

Read More:
• Best LGBTQ+ shows and movies to watch on Disney Plus
• Best LGBTQ+ shows and movies to watch free online
• Best LGBTQ+ shows and movies to watch on HBO Max
• Best LGBTQ+ shows and movies to watch on Netflix
TV Content Director on TV Times, What's On TV and TV & Satellite Week
I'm a huge fan of television so I really have found the perfect job, as I've been writing about TV shows, films and interviewing major television, film and sports stars for over 25 years. I'm currently TV Content Director on What's On TV, TV Times, TV and Satellite Week magazines plus Whattowatch.com. I previously worked on Woman and Woman's Own in the 1990s. Outside of work I swim every morning, support Charlton Athletic football club and get nostalgic about TV shows Cagney & Lacey, I Claudius, Dallas and Tenko. I'm totally on top of everything good coming up too.
Thank you for signing up to Whattowatch. You will receive a verification email shortly.
There was a problem. Please refresh the page and try again.