Best LGBTQ+ shows and movies to watch on HBO Max
HBO Max has built a solid lineup of LGBTQ+ content.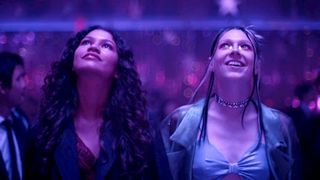 (Image credit: HBO)
HBO Max has a solid library of new and classic LGBTQ+ shows and movies.
HBO Max launched in 2020 and quickly grew to become of the heavy hitters among streaming services. In just a couple of years HBO Max built a huge library of classic and new content filled with HBO classics and Max originals.
Many of the shows and films created under the Max originals banner focus on amplifying the stories of marginalized groups including the LGBTQ+ community. Today HBO Max has one of the best libraries of LGBTQ+ content including these shows and films.
Euphoria
Euphoria — adapted from the Israeli show of the same name — follows Rue Bennett (Zendaya) and her group of friends as they try to deal with the complicated business of high school. The story has been praised by writer BJ Colangelo for how it tells coming-of-age stories in a new light. Rue and Jules (Hunter Schafer) kick up a complicated relationship in the series' first season, but their exploration will expand far beyond one another as things progress in the narrative. Nothing's simple in Euphoria, which is what makes the series so exceptional. — Amelia Emberwing
Our Flag Means Death
Our Flag Means Death is a quirky romantic comedy that's based on the life of a real man during the Golden Age of piracy. Stede Bonnet, (Rhys Darby), was a rich and titled member of the gentry of Barbados in the 1700s. He decides he wants a very different kind of life — becoming a pirate. He and his crew have some wild misadventures as he finds purpose, excitement and love on the high seas. Bonnet falls in love with another pirate, Captain Edward Teach, (Taika Waititi) who is fascinated by Bonnet. The series sparkles with great writing and perfectly timed comedy. The show was an instant hit with audiences who love the campy humor as much as the sweet love story that the show is built on. — Sonya Iryna
Steven Universe
The Cartoon Network series Steven Universe has long been praised for a myriad of reasons. Near the top of that long list is how it opened the door to diversity and inclusion in kids' shows. The series features a host of characters from all walks of life, including Ruby (Charlyne Yi) and Sapphire (Erica Luttrell). Though we don't meet the lesbian Gems till the end of the first season, an embodiment of them is always around. Garnet (Estelle) — basically the leader of the Gems — is the fusion of the two. Their involvement, coupled with all the Black coded leads of the series, puts Steven Universe lightyears ahead of other shows when it comes to representation (whether for children or adults). Even though fans were devastated when Steven Universe ended, all five seasons of the show plus the Steven Universe movie are available on HBO Max. — Amelia Emberwing
Batwoman
Despite experiencing the unique problem of losing its lead between season 1 and season 2, Batwoman has continued to impress on all fronts. The loss of Kate Kane (Ruby Rose) may have been jarring to some fans, but Ryan Wilder (Javicia Leslie) has stepped into the cowl as one of the most refreshing members of the Bat Family yet. The series has never shied away from being as gay as it wants to be (it's on the CW, so that's very gay™) but the addition of a Black lead means that they get to explore things in a way they've never done before. Season 2 takes an episode or two to find its footing, but with a 23-episode season, it feels like nothing on the grand scheme of things. While fans praised Javicia Leslie's Batwoman, the show was cancelled after season 3. All three seasons of Batwoman can be streamed on HBO Max.— Amelia Emberwing
Peacemaker
Peacemaker is an HBO Max Original series that is the first DC Extended Universe TV series. It was created by, written by and directed by James Gunn. It's a spin off of the 2021 movie The Suicide Squad that focuses on DC superhero and unrepentant killer Christopher Smith, aka Peacemaker (John Cena). Leota Waller-Adebayo (Danielle Brooks) becomes entangled in a mission with Peacemaker where she eventually forms a cautious friendship with him and is repeatedly put into some morally ambiguous situations that she is conflicted about. Her wife, Keeya, (Elizabeth Ludlow) tries to help her maintain some perspective and her moral compass as Leota gets pulled deeper into Peacemaker's violent world. — Sonya Iryna
It's a Sin
This British drama recently took America by storm thanks to HBO Max gaining the North American streaming rights. The five-part series spans from 1981-1991 and showcases a group of men and their friends as they live through the AIDS crisis in the UK. In addition to compelling storytelling and its raw and honest depiction of the dangers of HIV, the series is also credited for an uptick in HIV testing in the UK after its skyrocketing popularity. Written by cult favorite Russell T. Davies, best known for his work with Doctor Who, this short series made a big impact with fans. — Amelia Emberwing
Paris Is Burning
Paris is Burning is a classic documentary from 1990 that captures an important era in drag culture. It spans seven years in the mid-late 1980s and takes a deep dive into the African American and Latinx drag culture in NYC. Even though the documentary is a celebration of the fashion, culture and pageantry of drag it also delves into tough intersectional issues of race, class, homophobia and the experiences of trans people in the 1980s. It's an important part of LGBTQ+ history caught on film. — Sonya Iryna
The Flight Attendant
The Flight Attendant took the world by storm. Though it ended up missing out during awards season by somehow constantly being nominated for comedy, the series was praised by both consumers and critics alike. We may all be done with the gay best friend trope, but Shane Evans (Griffin Matthews) is so much more than that. The character is given more dimension both literally and figuratively — don't worry, no spoilers here — and plays a major role in the series as a whole. He's the first one there when Cassie's (Kaley Cuoco) life starts to unravel, but he's so much more than an archetype. All current seasons are available on HBO Max. — Amelia Emberwing
Betty
For those who saw Skate Kitchen (2018), this one's for you! Betty is a series adaptation of the film, following a group of Gen Zers who are doing their best to stand out in the male dominated skateboard scene in New York. The series features much of the same cast, many of which have queer coded vibes (with Kirt being the only member of the group that's explicity gay), but those implications may be more because of the Gen Z feel of the show than any direct intentions from the writers. It's that very thing that makes Betty feel all the more real. The show was cancelled by HBO after just two seasons despite a nearly perfect approval rating from fans. Both seasons are still available to stream. — Amelia Emberwing
The Trans List
The 2016 documentary The Trans List focuses on 11 transgender Americans and how they navigate life in a country that often ostracizes and erases them. Major names include Supergirl's Nicole Maines, Caitlin Jenner, Laverne Cox and more, but many critics noted that it was the "smaller" stories that resonated the most throughout the narrative. In addition to the positive critical reception, organizations like GLAAD sang the film's praises as well. While The Trans List may not be as conventionally entertaining as some of the more pop culture-focused entries on this list, it is most certainly worth a watch. — Amelia Emberwing
The Lady and the Dale
History fans will love The Lady and The Dale, a docuseries that tells the story of Geraldine Elizabeth Carmichael. Liz Carmichael was a transwoman who formed the Twentieth Century Motor Car Corporation in 1973. The company was formed with a partner who had created a design for a unique fuel-efficient car that was supposed to get 70 miles to the gallon. At the time, the US was in the throes of a fuel crisis and the car Carmichael was promoting, the Dale, would have been a game-changer for Americans who were desperate for fuel efficient vehicles. But under media scrutiny it was revealed the whole thing was a scam and the company and Carmichael were embroiled in scandal.
The show is a great snapshot of what life was like for LGBTQ+ people in the 1960s and 70s and the cultural barriers that made living authentically difficult. It's also a fun true crime story that captures a unique moment in history. — Sonya Iryna
Unpregnant
Based on the novel of the same name, Unpregnant follows Veronica (Haley Lu Richardson) and her former friend Bailey (Barbie Ferreira) as they head out on a unique kind of adventure. After finding out that she can't get an abortion in her home state of Missouri — and learning that the boy who knocked her up is against the idea of an abortion himself — Veronica and the coerced Bailey have to road trip to Albuquerque to get rid of the baby without her parents' permission. This misadventure may not focus solely on its queer story, but that lends more to the normalcy of these stories than some might think. Bailey is already an out and proud lesbian before their adventure gets underway, but there's a couple surprises for her on their little road trip! — Amelia Emberwing
Equal
Equal is a four-episode docu-series that takes an in-depth look at LGBTQ+ history and culture from the 1940s to the early 1970s. Each episode dives deep into the cultural attitudes towards LGBTQ+ people in a particular time period as well as laws targeting LGTBQ+. With interviews, archival footage and reenactments of key events, each episode shows the battles that early LGBTQ+ fought and the ground they gained as they paved the way for each future generation.
The last episode in the series tells the story of the Stonewall Riot and the basis for the modern day Pride movement. Even though this series is only four episodes long it's an important piece of LGBTQ+ history. — Sonya Iryna
More LGBTQ+ content
Amelia is an entertainment Streaming Editor at IGN, which means she spends a lot of time analyzing and editing stories on things like Loki, Peacemaker, and The Witcher. In addition to her features and editorial work, she's also a member of both the Television Critics Association and Critics Choice. A deep love of film and television has kept her happily in the entertainment industry for 7 years.