Farmer Wants a Wife: next episode, trailer and everything we know about the reality dating series
It's a new twist on reality dating shows.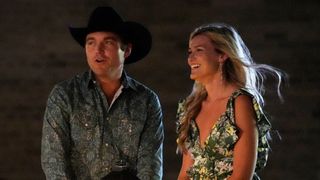 (Image credit: Fox)
Just in case you were thinking that we've run out of ideas for new reality dating competitions, Fox gives us a brand new one with Farmer Wants a Wife. It's being billed as the "world's biggest dating show" as it's aired in 32 countries, and it's also considered to be the show that would happen if Yellowstone and The Bachelor had a baby.
Curious? Yeah, so are we.
The concept is simple—four farmers are looking for wives. Their potential future wives come from a pool of women whose varying degrees of farm experience range from some to none at all.
What's more, is that the show is wildly successful across the globe. In a Fox press release, the show's successes are highlighted by the numbers alone: "The Fremantle-owned format has aired in 32 countries and resulted in 180 marriages and 410 children." That's one heck of a track record!
Here's how it works: 32 women were matched online with the four gentlemen farmers, and upon arriving on the farm they were divided into groups of 8. From there, relationships started to build. Will the farmers find love? Based on the odds, it's a good bet that they will.
Here's everything we know about Farmer Wants a Wife.
Next episode of Farmer Wants a Wife
Farmer Wants a Wife airs Wednesdays at 9 pm ET/PT on Fox. New episodes will be available the following day on Hulu.
The March 22 episode is titled "Why Won't He Kiss Miss" and here's the episode description: "The search for love continues in our first group event. Each week, host Jennifer Nettles will arrange a mixer at a different destination and this week, the farmers and their ladies attend the Rodeo at the State Fair of Texas in Dallas. Following the mixer, the farmers will pick one lady to go on a solo date. Watch as Ryan, Allen, Hunter and Landon navigate budding emotions amongst the ladies in the all-new 'Why Won't He Kiss Miss' episode of Farmer Wants a Wife."
We don't know when the show will be available in the UK, but we'll pass along the update when the information becomes available.
Farmer Wants a Wife episode guide
Keep track of all the episodes of Farmer Wants a Wife right here!
Farmer Wants a Wife season 1 episode 1: "Welcome to the Farms"
Farmer Wants a Wife season 1 episode 2: "Down and Dirty on the Farm"
"Each of our farmers has given one of his ladies a head start and chosen them to return to their farm a full 24 hours before the others arrive! As the women settle into life on the farm together, time can be spent focusing on the one thing that both the farmer and the ladies have been searching for: that everlasting love! Watch as Ryan, Allen, Hunter and Landon welcome the ladies to their ranch in the all-new 'Down & Dirty on the Farm' episode of Farmer Wants a Wife."
Farmer Wants a Wife cast
Farmer Wants a Wife will be hosted by multi-talented performer Jennifer Nettles (The Righteous Gemstones).
The four farmers looking for wives are Hunter, Ryan, Landon and Allen.
Below is a list of the women who will be competing for their affection:
Ariana, a sales associate from Weehawken, NJ
Brittany, a travel blogger from Sacramento, CA
Erica, a restaurant general manager from Manhattan, NY
Emma, a dance coach from Pacific Palisades, CA
Jessica, a waitress from Boston, MA
Jordan, a yoga teacher from Kennesaw, GA
Julia, a cyber security analyst from San Antonio, TX
Sarah R., a content creator from Kansas City, MO
Hayley B., a human resources manager from Chicago, IL
DeVonne, a director of marketing from Scottsdale, AZ
Hayley R., a recruiter from New York, NY
Meghan, an event coordinator from Midland, TX
Porschia, an accounting assistant from Las Colinas, TX
Sara V., a bartender from Dallas, TX
Stephanie, a sommelier from Temecula, CA
Sydney, a music booking agent from Nashville, TN
Talia, a therapist from Atlanta, GA
Ashley L., an executive coordinator from Dallas, TX
Ashley R., an AMSA at Veteran Hospital from Orlando, FL
Cassidy, a medical sales rep from Scottsdale, AZ
Khelsi, a school teacher from Cataula, GA
Kiersten, a blogger from Nashville, TN
Kylie, a veterans affairs advocate from Orlando, FL
Lily, a psychology student from Miami, FL
Nicole, a supervisor of radiation oncology from Allentown, PA
Rebecca, a horse trainer from Moorpark, CA
Sarah, a communications specialist for a global children's charity from Brooklyn, NY
Sloan, a spirituality coach from Miami, FL
Zoe, a photographer from Nashville, TN
Heather, a real estate investor from Dallas, TX
Shartaysia, a mental health therapist from Los Angeles, CA
Farmer Wants a Wife premise
Here's the official plot of Farmer Wants a Wife from Fox:
"Four farmers from across the country embark on an adventure of a lifetime in the hopes of finding their future spouse. Women will leave behind the dating apps and pursuit of love in 'the big city' in favor of classic American courtship. The farmers will take their group of daters to their farm and show them what it is really like to live as ranchers do—from tending to the homestead to feeding cattle and baling hay. For the daters, the realities of this lifestyle may beg the question: how much of your life are you willing to change for love?"
Farmer Wants a Wife trailer
The trailer tells you everything you need to know about what to expect in Farmer Wants a Wife, and we have to admit, we're even more curious about this new show. Take a look at the trailer below:
How to watch Farmer Wants a Wife
Farmer Wants a Wife will air on Fox, which is included with most cable providers. If you've cut the cord, you can access the channel through live TV providers like FuboTV, Hulu Plus Live TV, Sling TV and YouTube TV. You can also watch episodes the next day on Hulu.
Get the What to Watch Newsletter
The latest updates, reviews and unmissable series to watch and more!
Editorial Content Producer
Sarabeth joined the Watch to Watch team in May 2022. An avid TV and movie fan, her perennial favorites are The Walking Dead, American Horror Story, true crime documentaries on Netflix and anything from Passionflix. You've Got Mail, Ocean's Eleven and Signs are movies that she can watch all day long.
When she's not working, Sarabeth hosts the My Nights Are Booked Podcast (opens in new tab) and blog (opens in new tab) dedicated to books and interviews with authors and actors. She also published her first novel, Once Upon an Interview (opens in new tab), in 2022.