Is 'Free Guy' on Netflix?
This one's a little confusing thanks to mergers!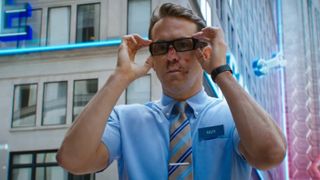 (Image credit: 20th Century Studios)
Free Guy is about to take the world by storm on Friday, August 13th. This surprisingly heartfelt video game flick caught critics by surprise with it's sincerity and genuine humor. But the real question is, can you stream it at home?
Is 'Free Guy' on Netflix? 
Despite being a 20th Century Studios film, Free Guy is technically a Disney movie now that the media giant purchased Fox and many of its subsidiaries. Because of that, you're more likely to see Free Guy on Disney+ or the Disney owned Hulu before you see it on something like Netflix or Amazon Prime Video. 
Can I stream 'Free Guy' anywhere?
While COVID still remains a very real concern, studios are trying to find the right release model both for their pocket books and consumers. Free Guy is one of the first Disney films that is being released exclusively in theaters. Because of that, Free Guy will not be available in any streaming capacity upon its release on August 13th, 2021. If the film sees diminished box office returns, we could see that change as soon as Disney is legally able, but the only way to see Free Guy opening night is to head to a theater. 
20th Century Studios announced on August 23rd that Free Guy will be available on all major digital platforms on September 28th. Note: "digital" ≠ "streamers," meaning you'll be able to rent it from VOD platforms but won't be seeing it on Netflix. 
Will 'Free Guy' get a physical release?
Absolutely. While films from Netflix and other streamers are always a big question mark on the physical release front, you can continue to count on studio releases to make that sweet, sweet physical media available. (Reminder: that's the only way you actually own the content.) 
20th Century Studios' August announcement also included information for the Blu, 4K and DVD release. On October 12th fans of the film — and those who weren't comfortable seeing it in theaters — will be able to own their very own copy of Free Guy. 
With 'Free Guy' have bonus features?
You bet it will! Here's the full list.
Amelia Emberwing is the Entertainment Editor and lead critic here at What to Watch. She survives on a steady IV of caffeine, rants, pixie dust and fangirling, and will probably sass you. You can find her on Rotten Tomatoes as an individually approved critic. She's also a member of the Television Critics Association and GALECA. 
Get the latest updates, reviews and unmissable series to watch and more!
Thank you for signing up to Whattowatch. You will receive a verification email shortly.
There was a problem. Please refresh the page and try again.