'One Night' — cast, release date, and everything you need to know about the new BritBox UK comedy-drama
'One Night' is a charming new comedy-drama coming exclusively to Britbox UK, starring MyAnna Buring from 'Downton Abbey' and 'The Witcher'.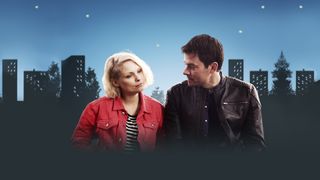 (Image credit: Britbox)
One Night lands exclusively on Britbox UK in October 2021.
Starring MyAnna Buring (Downton Abbey, The Witcher) and Gísli Örn Garðarsson (Beowulf: Return to the Shieldlands) One Night follows 27-year-old waitress, Elizabeth, and 35-year-old carpenter, Jonas, as they embark on a blind date in Oslo that turns into a tumultuous, emotional, soul-baring evening.
The ten-part series is presented as a date in real-time, following the couple from 8pm until 1am, as they consider their past, present and futures.
A recent Britbox UK press release explains: "Step by step, as they get to know each other, so do we… In the midst of this weird, awkward and moving journey through the night, we the audience look deep into both of the characters' hearts and hopes, and we feel with them the longingness to be loved."
MyAnna Buring adds: "Ultimately One Night is incredibly hopeful and beautiful. It's such an intimate story. The real time setting gives it an immediacy - it instantly sets the clock ticking. There's a kind of magic to these two people unfolding in front of each other for one wild night. Elizabeth and Jonas start off as strangers and by the end, they're not. One night can totally transport you into a different place in your life. So hold on to that when you are feeling stuck, sit with it, ride it and know that change is always possible."
'One Night' release date
One Night will be available exclusively on BritBox UK from 28th October.
Additional information about 'One Night'
One Night is written and directed by Lilyhammer's Øystein Karlsen.
En natt, the 2018 Norwegian version of One Night, stars MyAnna Buring as Elizabeth with Anders Baasmo Christiansen as love-interest Jonas.

American musician Tim Scott McConnell makes a guest cameo in episodes 6 and 7.
MyAnna Buring co-directed episode 8.
'One Night' trailer
A trailer for the English version of One Night is currently unavailable.
Check here for the trailer to En natt.
Who's who in 'One Night'
Elizabeth (MyAnna Buring)
Waitress Elizabeth has suffered a terrible trauma, which has caused her to become closed off to the possibility of romantic relationships. However, she finds herself agreeing to a blind date with Jonas when her closest friend, Denise, sets it up.
MyAnna Buring: "When we meet Elizabeth she's an incredibly introverted, spiky person. She's been hurt and is very suspicious about opening up to anyone."
MyAnna Buring plays Elizabeth in both the Swedish/Norwegian and English versions of One Night.
Jonas (Gísli Örn Garðarsson)
Carpenter Jonas is intrigued by Elizabeth from the outset, but despite claiming he's going to be totally honest, he's keeping significant secrets… Not everything is as it seems, however!
MyAnna: "Slowly over the night Elizabeth begins to unfurl with this unlikely, charismatic, jovial man. It turns out that he's got the right kind of sympathy that leads to a blossoming for her."
Gísli Örn Garðarsson stars as Jonas in the English series, while Anders Baasmo Christiansen plays Jonas in the Swedish/Norwegian version.
Denise (Nosizwe Baqwa)
Mum of two, Denise is a kind, loyal and compassionate friend to Elizabeth. So when Denise sets up a blind date with her brother's pal, Elizabeth agrees to give it a chance, knowing Denise has her best interests at heart.
Nosizwe Baqwa stars as Denise in both the Swedish/Norwegian and English versions of One Night.
Ian (Lars Berge)
Volatile, controlling and violent - when Ian starts harassing Elizabeth on the street, Jonas takes matters into his own hands to shake Ian off, but ends up igniting his fury! Elizabeth and Jonas have several scary run-ins with Ian during the ten-part series, and there's a very real fear he will catch up with them and do something terrible…
MyAnna: "Ian's really horrendous. Lars Berge, who plays him, is a cracking actor. It's interesting to introduce him quite quickly. Later we have the explanation as to what actually happened. That tale is, unfortunately, all too common and all too well known. After having experienced violence from a partner, whether it be emotional, psychological or physical, how do you move on and trust again?"
Lars Berge plays Elizabeth's ex boyfriend in both versions of One Night. In En natt the character's name is Stian.
Hannah (Maria Grazia Di Meo)
It's not too much of a spoiler to say that Hannah is Jonas' girlfriend. Yep, he has a girlfriend he failed to mention! Without revealing too much, there are deliciously awkward scenes when Jonas is forced to introduce Elizabeth and Hannah.
MyAnna: "Normally if somebody told you that they'd a girlfriend, you'd be like "you're blocked!" But what are the set of circumstances that would make you not say that? That would lead you to think, I will stay a bit longer? It's weird, but it's only in the situation do you know how you'd react. Jonas is obviously going through a crisis himself and he's not necessarily dealing with it in the best way."
Maria Grazia Di Meo plays Jonas' girlfriend in both versions of One Night. In En natt the character's name is Vilde.
Oslo City

The location for this romantic drama, Oslo is definitely a major and captivating character in One Night…

MyAnna: "It is a super cool city. The part of the city we were filming in is very hip, with all these funky little bars. We shot two versions of One Night - one in Swedish and Norwegian with Anders Baasmo Christiansen as Jonas and one in English with Gísli as Jonas. For half the day we would shoot the Swedish/Norwegian version with Anders and then the other half of the day, we'd shoot the English version with Gísli. It was wild!"
MyAnna Buring on wearing the same costume every day in 'One Night'
""Actually it was quite dreamy because it meant it was the one thing I didn't have to think about. In fact I got really attached to the boots - they are still with me!"
MyAnna Buring on a stand out moment from filming
"There's a bit where we had to jump into the North Sea. We shot it in September in the middle of the night. It's a good metaphor for the job - jumping into icy freezing cold water, but it feeling amazing and exhilarating!"
What's next for MyAnna Buring
One Night star MyAnna Buring's projects include BBC's highly anticipated The Responder and Mathilde Dratwa's play Milk and Gall at Theatre503.

"It's been really nice finishing off The Witcher and then doing The Responder for BBC," says MyAnna, who adds: "Mathilde Dratwa has written this awesome play about where were you when Trump was elected. It's from the perspective of a woman who's giving birth on election night.
"I'm really really enjoying acting at the minute!"
More about 'One Night' star MyAnna Buring
Swedish-born MyAnna Buring, 42, has an impressive on-screen career. MyAnna's TV & film highlights include Casualty, The Descent, Doctor Whom Inspector George Gently, The Twilight Saga: Breaking Dawn - Part 1, White Heat, The Poison Tree, Downton Abbey, Banished, Prey, Dag, Ripper Street, The Witcher, and The Salisbury Poisonings.
Other TV shows coming to BritBox UK in October 2021
Upstart Crow Season 3 and Christmas Special (2018). David Mitchell and Gemma Whelan star in this comedy about William Shakespeare.
Bergerac Seasons 3 - 9 (1983-1991). Celebrating the 40th anniversary of the iconic show BritBox completes the full boxset of the iconic crime drama starring John Nettles, Terence Alexander and Sean Arnold.
Deceit Season 1 (2021). Starring Niamh Algar and based on the true story of a controversial honeytrap at the heart of the 1992 police investigation into the murder of a young mother in London.
Inside the Mind of Freddie Mercury (2021). Documentary about the celebrated Queen frontman with contributions from psychiatrist Dr Bob Johnson and people close to the star.

Accused Seasons 1 - 2 (2010 - 2012). Jimmy McGovern's award-winning courtroom drama starring Naomie Harris, Christopher Eccleston and Sean Bean.
Hunted S1 - 3 (2015-2018). Game show that tasks 14 contestants with going off grid for up to 28 days while evading professional hunters.
Us (2020). Comedy drama starring Tom Hollander as a husband blindsided by his wife's announcement that she's leaving him. With Saskia Reeves.
Apparitions Season 1 (2008). Martin Shaw stars as a priest drawn into the terrifying world of exorcisms.
Intruder Season 1 (2021). Elaine Cassidy and Tom Meetan star as a couple whose lives are devastated when two teenagers break into their home.
Clique Season 1 - 2 (2017 - 2018). Unsettling thriller starring Synnove Karlsen, Aisling Franciosi, and Rachel Hurd-Wood as university students drawn into an elite and sinister underground society.
Ghosts Season 2 (2020). More ghostly adventures from the residents of Button House. Ben Willbond and Lolly Adefope star.
Public Enemies Season 1 (2012). After serving a murder sentence Eddie tries to adjust to life outside with the help of his probation officer, Paula. Stars Anna Friel and Daniel Mays.

Our full guide to what's new on BritBox UK
Get the latest updates, reviews and unmissable series to watch and more!
Writer for TV Times, What's On TV, TV & Satellite Week and What To Watch
With twenty years of experience as an entertainment journalist, Elaine writes for What's on TV, TV Times, TV & Satellite Week and (opens in new tab)www.whattowatch.com (opens in new tab) covering a variety of programs from gardening and wildlife to documentaries and drama.
As well as active involvement in the WTW family's social media accounts, she has been known to get chatty on the red carpet and wander into the odd podcast.
After a day of previewing TV, writing about TV and interviewing TV stars, Elaine likes nothing than to relax… by watching TV.
Thank you for signing up to Whattowatch. You will receive a verification email shortly.
There was a problem. Please refresh the page and try again.