Queens Court: episode guide, trailer, cast and everything we know about the dating show
Tamar Braxton, Evelyn Lozada and Nivea are back on reality TV, this time they're searching for love.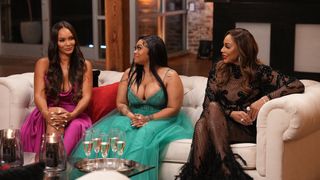 (Image credit: Quantrell Colbert/Peacock)
Grammy-nominated artists Tamar Braxton and Nivea are joined by Basketball Wives legend Evelyn Lozada as the three ladies embark on a quest to find their soulmate in Queens Court.
Now searching for love on reality TV has certainly proven to be somewhat of a difficult task, as evidenced by shows like Love Island USA, The Bachelor and Love Is Blind. However, the level of complexity involved hasn't seemed to deter these women as they are committed to the unique dating process of Queens Court and will rely on the support of each other to make the right decisions when it comes to matters of the heart.
What exactly can you look forward to in the new show? Here's everything we know about Queens Court.
Queens Court release date
The series premiered all 10 episodes of the first season in the US on Peacock on Thursday, March 16.
As of now, we can't confirm when or if the series will make its debut in the UK. However, as that information becomes available to us, we'll pass along the update.
Queens Court trailer
It looks like the journey to finding the one is going to get particularly emotional for Tamar and Evelyn. Check out the trailer for the season below.
Queens Court episode guide
Here is an episode guide for the first season.
Episode 1: "All Hail the Queens"
"Tamar, Evelyn and Nivea have a ball with the first seven Bachelors; shared past trauma leads to both open doors and red flags as the Queens begin bonding with several of their potential Kings; JR, Puff and Mac lead the path to love."
Episode 2: "Shoot Your Shot"
"Seven new men step in front of the lens for a photoshoot with the Queens; Tamar connects with a super fan; Nivea shelves Mac to play the field; Evelyn gets a taste for white chocolate; the OGs join, doubling the competition and the dating pool."
Episode 3: "I Know You Lie"
"The Queens ponder their choices with six new Kings during rapid-fire interviews; Nivea resists primal urges with Ty; Evelyn learns Gatsby's pricey secret; JR stays lawyered up with Tamar, whose inner angst gets triggered by Corey."
Episode 4: "King Fishers"
"The Queens take things off the grid to deepen their connections; Gatsby works his way back to Tamar; Lavon makes his move with Evelyn; Ryshaun goes from a peachy date to drunk and disorderly, making Nivea question the kind of men she's attracted to."
Episode 5: "Cookout Cousins"
"The Queens invite friends and family to grill the Kings at a cookout; Tamar uses the Peetes as her proxy; Evelyn's daughter spots potential red flags; Nivea's friends turn up the heat, helping her secure a crush and embrace her self-worth."
Episode 6: "Pool for Love"
"The Queens celebrate the remaining men moving into the castle with a pool party; as Evelyn and Gatsby get heated, Michael ups his game; the competition heightens for Tamar's heart; Nivea questions ditching Ty for another King."
Episode 7: "Throuple Trouble"
"Evelyn realizes she's hiding in numbers, even as Lavon gives her butterflies; Nivea bares her fragile heart as Ty and Mac's bromance leaves her wanting less; with JR and Gatsby in tow, Tamar's defenses have her wondering if she's even open to love."
Episode 8: "Home for the Holi-Date"
"The Kings' friends and family arrive at court to shed light on the Queens' potential mates; Nivea's bonds strengthen as she learns about Mac's past; Michael's cheating past leaves Evelyn cold; Tamar's lack of interest in Gatsby's mom puts him out."
Episode 9: "Puppy Love"
"The final five have one last date to prove they are the right King; Evelyn examines her long-distance potential with Lavon and Puff; Nivea navigates a map of different futures with Ty and Mac; JR shares a revelation that leaves Tamar speechless."
Episode 10: "Throuple Trouble"
"Rodney and Holly help the Queens dig deep one last time; Evelyn and Lavon face distance, kids and her past trauma; Nivea remains torn between Mac and Ty to the very end; Tamar's fears of being open and ready to love are put to the ultimate test."
Queens Court premise
Here's the official synopsis of Queens Court:
"Love and happiness aren't always a guarantee — and for many women in the public eye, finding a man who can handle her success, fame and fortune can make things even more complicated. With Queens Court, mega producer Will Packer brings together three famous, single women for an epic new dating series starring Tamar Braxton, Evelyn Lozada and Nivea.
"Hollywood power couple Holly Robinson Peete and Rodney Peete host the 10-episode series, guiding the Queens through the ups and downs of dating 21 confident and successful prospective suitors while the Queens develop a sisterhood supporting each other on their quests to find a King fit for a Queen."
Queens Court cast
As previously mentioned, the three high-profile women searching for love are Tamar Braxton, Nivea and Evelyn Lozada. Braxton is the Grammy-nominated baby sister of R&B diva Toni Braxton. The younger Braxton has belted out hits like "Love and War," "The One" and "My Man," and she's been spotted on shows like Braxton Family Values and The Real. She was married to music exec Vincent Herbert, and the former couple shares one child.
Nivea is also a Grammy-nominated R&B artist that has hits like "Complicated" and "Don't Mess with My Man." Additionally, her last reality TV stint was on BET Presents: The Encore. She too has had some high-profile romances, having been in a relationship with rapper Lil Wayne and married to super producer The-Dream.
For years, Evelyn Lozada was the face of Basketball Wives and amassed quite the fanbase. After she left the show the first time, she fronted her own reality series, Livin' Lozada. During her time on reality TV, she's been married to former NFL player Chad Johnson and engaged to former MLB player Carl Crawford.
Queens Court hosts
Queens Court is hosted by Hollywood couple Holly Robinson Peete and Rodney Peete. Holly is a longtime actress and has appeared in 21 Jump Street (the series and film), Hangin' with Mr. Cooper and For Your Love. She's even hosted a season of the daytime talk show, The Talk.
Rodney is a former NFL player that got into the acting business, appearing in Why Did I Get Married Too? and Ballers. He's also hosted shows like NFL on Fox.
How to watch Queens Court
Queens Court is a Peacock original series. Those hoping to catch episodes need a subscription to the streamer. Currently, Peacock offers a couple of different options to choose from for would-be subscribers.
Once more information about a show rollout in the UK becomes available to us, we'll pass along the update here.
Get the What to Watch Newsletter
The latest updates, reviews and unmissable series to watch and more!
Terrell Smith has a diverse writing background having penned material for a wide array of clients including the federal government and Bravo television personalities. When he's not writing as Terrell, he's writing under his pseudonym Tavion Scott, creating scripts for his audio drama podcasts. Terrell is a huge fan of great storytelling when it comes to television and film. Some of his favorite shows include The Crown, WandaVision, Abbot Elementary and Godfather of Harlem. And a fun fact is he's completely dialed into the TLC 90 Day Fiancé universe.