What to watch for Pride Month: our picks of LGBTQ+ programming
By Terrell Smith published
Our picks for Pride Month programming — all the best LGBTQ TV shows and films to watch.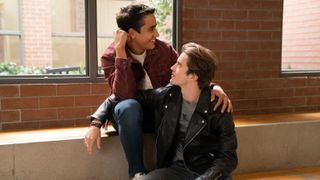 (Image credit: Greg Gayne/Hulu)
Every June, people salute the men, women and non-binary persons who are brave enough to be their true selves during a time appropriately coined Pride Month. As spelled out in USA Today (opens in new tab), Pride finds its origins in the 1969 Stonewall Uprising in New York City. In honor of that fateful summer day, the US has officially been celebrating the LGBTQ community in June since 1999, with the UK and other countries following suit.
As more individuals and businesses recognize this time of year, production companies have started making a point of releasing shows and films during the month with gay/queer characters and themes.
We've combed through the lists of programming being offered and have selected a few things we think are worth watching during Pride Month 2022. And if you just want a comfort watch — some oldies but goodies — take a look at our favorite LGBTQ+ moments on TV.
BBC
50 years of Pride
The BBC has commissioned and curated titles to play across its entire stable of TV and radio channels. Some dates are still being confirmed but here's a taste of what's new and planned for Pride Month.
Billie Jean King: The Amol Rajan Interviews, BBC2, Wednesday, June 22, 7 pm — The broadcaster talks to legendary American tennis player and social activist Billie Jean King about her life and career. Now 78, the former world number one won 12 Grand Slam singles titles during the 60s and 70s, while concealing her sexuality. The star also talks about her work for gender equality within tennis and for the LGBT community.
Big Proud Party Agency, BBC iPlayer, Wednesday, June 29 — a new six-part series featuring Ryan Lanji, Teddy Edwardes and Christopher Mills, following LGBTQ+ professional party agents as they plan some fabulous queer parties for friends in need of a celebration.
Into My Name — a coming-of-age story about four Italian friends and their gender transitions. Executive produced by Elliot Page and Gaia Morrione.
Gateways Grind — documentary presented by Sandi Toksvig about the famous lesbian Gateways Club, in Chelsea, London.
BET Plus
B-Boy Blues
The drama follows the love story of two men in New York. While they are from the same city, they come from different worlds and have to overcome a bit of a culture clash.
Streaming: Thursday, June 9
Channel 4
50 Years of Pride
This feature-length documentary from Channel 4, with filmmaker Stephen Daldry and playwright Joe Robertson, has been commissioned to mark the 50th anniversary of Pride in the UK. Since 1972, Pride has developed from a small-scale protest march to a spectrum of parades and events across Britain. This documentary tells the story of Pride from people who shaped the movement from the start, as well as from a younger generation for whom Pride has always been part of their life and identity.
Streaming: end of June.
April Ashley
April Ashley is the first feature documentary on this trailblazer for trans women in the UK. Ashley, who died last year at the age of 86, was one of the country's most prominent transgender women — a model, dancer and restaurateur whose rollercoaster life took her from wartime Liverpool to a world of celebrity friendships, a landmark divorce trial and an MBE.
Streaming: end of June.
Joe Lycett's Big Pride Party
Joe Lycett is hosting a big queer party, live from his Birmingham hometown, celebrating all things LGBTQ+. He is joined by celebrity guests including Rupert Everett, Heartstopper's Joe Locke and Yasmin Finney, Olly Alexander, comedian Mawaan Rizwan and Drag Race queens Tia Kofi and Tayce. Confirmed to perform are Boy George and Culture Club, Steps and Self Esteem. There'll be a countdown of the top 10 LGBTQ+ TV moments and the audience — made up of LGBTQ+ icons, allies of the LGBTQ+ community and local heroes — will be sharing their own personal stories of Pride.
The Pride Collection
Channel 4 has a long and varied history in commissioning and creating programming for LGBTQ+ communities, from the original Queer as Folk (US reboot incoming), Anne+ and Tales of the City to the highly celebrated It's a Sin, there's so much to explore in Channel 4's Pride at 50 streaming playlist.

Streaming: on All4 now. (opens in new tab)
Discovery Plus
The Book of Queer season 1
The five-episode limited series celebrates the incredible history of the LGBTQ community with the help of famous celebrities like Margaret Cho (The Flight Attendant), Leslie Jordan (American Horror Story) and Alex Newell (Glee).
Streaming: Thursday, June 2
90 Day Fiancé: Love in Paradise season 2
The hit 90 Day Fiancé: Love in Paradise is back, and this season viewers can navigate the love journey of gay couple Valentine and Carlos and that of bisexual throuple Frankie, Gaby and Abby.
Streaming: Friday, June 10
HBO Max
Legendary season 3
The Emmy-nominated series once again showcases the ballroom culture as groups vogue, drop and pose their way through the competition in hopes of being crowned the winner.
Streaming: season began on Thursday, May 19
Hulu (US) / Disney Plus (UK)
Fire Island
Fire Island is a romantic comedy that follows two best friends as they head to New York's legendary vacation spot to have the summer of their lives. They aren't necessarily welcomed by everyone on the island, but they manage to catch the attention of a handsome stranger or two.
Streaming: Friday, June 3
Love, Victor season 3
In the final season of Love, Victor, the titular character will attempt to sort out his complex feelings for the boys in his orbit, while trying to look to the future beyond his senior year of high school.
Streaming: Wednesday, June 15
Netflix
First Kill season 1
One is a vampire and the other is a vampire hunter. Will these two ladies manage to figure out their feelings for one another while being from rival sides?
Streaming: Friday, June 10
The Umbrella Academy season 3
The Umbrella Academy is back for its third installment, and the superpowered individuals of the Umbrella Academy find themselves at odds with those of the Sparrow Academy. The season will also mark Elliot Page's character announcing he is transgendered.
Streaming: Wednesday, June 22
The Upshaws season 2 part 1
Mike Epps, Kim Fields and Wanda Sykes are back again telling the funny story of an American family in Indiana. We specifically look forward to seeing how the eldest Upshaw child continues his same-gendered-dating journey with a possible new child in the mix.
Streaming: Wednesday, June 29
Paramount Plus
RuPaul's All Stars Drag Race season 7
Some of the most memorable stars from RuPaul's Drag Race come back to compete for the cash prize and of course the title on RuPaul's All Stars Drag Race season 7.
Streaming: season began on May 20
Peacock
Queer as Folk season 1
The Queer as Folk reboot is reimagined and centers around a diverse group of friends in New Orleans in the aftermath of a tragedy.
Streaming: Thursday, June 9
Prime Video
My Fake Boyfriend
A romantic comedy that follows the story of a guy who creates a fake boyfriend to keep his ex-boyfriend out of his life. He runs into an issue when he comes across the man of his dreams but he is in a fake relationship and has a hard time breaking up with his imaginary partner.
Streaming: Friday, June 17
Showtime
The Chi season 5
The series will continue to explore the daily lives of the residents of the south side of Chicago. As always, the Lena Waithe-created series won't shy from portraying the intersection of race and sexuality for a few of the show's characters.
Streaming: Friday, June 24
Sky TV/Now
Angels in America
In New York City in the 1980s, lives are changed forever as the AIDS epidemic worsens. Emma Thompson, Meryl Streep, and Al Pacino star in the acclaimed HBO adaptation of the Pulitzer Prize-winning play, directed by Mike Nichols.
Streaming: now
Looking
Three gay friends navigate life and love in San Francisco in this frank comedy-drama starring Russell Tovey (Being Human, Years and Years), Murray Bartlett (The White Lotus, Tales of the City) and Jonathan Groff (Glee, Mindhunter, The Matrix Resurrections).
Streaming: now
Sort Of
Created by Bilal Baig and Fab Filippo, Sort Of stars Baig as gender-fluid millennial Sabi Mehboob as they straddle various identities — from bar staff at an LGBTQ+ club to the youngest child in a Pakistani family.
Starz
P-Valley season 2
In its second season, Uncle Clifford and Autumn are locked in a battle for control of The Pynk, the Mississippi strip club. Also, just like last season, the often sexual fluidness of some of the characters will make for interesting narratives.
Streaming: Friday, June 3
Theaters
Lightyear
In this origin story of how Toy Story's beloved Buzz Lightyear came to be, the movie proves to be worth watching for two major reasons in our book. First, all Toy Story loyalists have to see the film because Pixar and Disney have always created great work when they partnered on the franchise. Second, the hotly debated same-gendered kiss will in fact be featured in the project.
Lightyear releases on June 17.
Terrell Smith has a diverse writing background having penned material for a wide array of clients including the federal government and Bravo television personalities. When he's not writing as Terrell, he's writing under his pseudonym Tavion Scott, creating scripts for his audio drama podcasts. Terrell is a huge fan of great storytelling when it comes to television and film. Some of his favorite shows include The Crown, WandaVision, Abbot Elementary and Godfather of Harlem. And a fun fact is he's completely dialed into the TLC 90 Day Fiancé universe.
Get the latest updates, reviews and unmissable series to watch and more!
Thank you for signing up to Whattowatch. You will receive a verification email shortly.
There was a problem. Please refresh the page and try again.