What to watch for Pride Month: our picks of LGBTQ+ programming
Our picks for Pride Month programming — all the best LGBTQ TV shows and films to watch.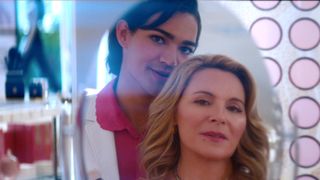 (Image credit: Netflix)
As the calendar flips to June, we once again recognize Pride Month, which salutes the men, women and non-binary persons who are brave enough to be their true selves. Throughout the month, there are going to be a number of shows and movies debuting with gay/queer characters and themes that viewers can watch to commemorate the occasion.
Pride Month finds its origins in the 1969 Stonewall Uprising in New York City, and in honor of that fateful summer event, the US has officially been celebrating the LGBTQ community in June since 1999, with the UK and other countries following suit.
We've combed through the lists of new programming being offered and have selected a few things we think are worth watching during Pride Month 2023. And if you just want a comfort watch — some oldies but goodies — take a look at our favorite LGBTQ+ moments on TV.
Please note, we've organized the list by streamer.
Disney Plus
Pride from Above
Pride from Above is a Disney Plus special that gives viewers an extensive look at the creativity and logistical skills that go into pulling off Pride parades/festivals that celebrate the activism and identities that exist within the LGBTQIA+ community.
Streaming: June 2
Hulu
Pride Never Stops
This year on Hulu, the streamer is broadcasting Pride parades/festivals from various cities throughout the US. Things kick off with the 53rd Annual Los Angeles Pride Parade on June 11, followed by the 45th Annual Houston Pride Celebration on June 24 and everything is rounded out by Pride Across America on June 25, which highlights the events held in New York, Chicago and San Francisco.
Streaming: June 11, June 24 and June 25
Jagged Mind
Jagged Mind is an interesting horror movie about a woman that experiences strange visions only to discover that they aren't visions, but really her stuck in a series of time loops. As she tries to get to the bottom of things, she realizes what's happening to her is because of her new girlfriend.
Streaming: June 15
Grown-ish season 6
The final season of Grown-ish kicks off at the end of the month and continues to follow Junior (Marcus Scribner) and his friends as they navigate college and figure out what it means to be an adult. The story arc of Zaara Ali (Tara Raani) in particular speaks to the show's willingness to explore themes of sexuality as the character highlights a queer perspective of Generation Z.
Streaming: June 29
Max
And Just Like That… season 2
The Sex and the City spinoff returns to Max during this year's Pride month, which is great news. In its second season, the hit show continues to follow the lives of Carrie Bradshaw (Sarah Jessica Parker), Miranda (Cynthia Nixon) and Charlotte (Kristin Davis) as they navigate New York City, a little older and hopefully a little wiser. Miranda's journey in particular is a must-watch as she explores her queer love life.
Streaming: June 22
Rock Hudson: All That Heaven Allowed
While a legend for his onscreen star quality, over the years, Rock Hudson's private life has made him quite the figure in the LGBTQIA+ community. Rock Hudson: All That Heaven Allowed is a new documentary that shines a light on the star's sexuality and touches on how and why he kept it such a secret.
Streaming: June 29
The Stroll
The Stroll provides a first-hand look into the difficulties many transgender women of color faced in New York City during the 1990s. As director Kristen Lovell reunites with her sisters to bravely share their past experiences, a light will no doubt be shined on the progression of trans rights and equality.
For those that watched the popular series Pose, The Stroll documentary should also provide an interesting parallel between the scripted drama and real life.
Streaming: June 21
Netflix
Human Resources season 2
For those that love the Big Mouth universe, Human Resources season 2 starts streaming on Netflix in June, and will actually be the spinoff's last. The adult animated sitcom explores the dynamics of love and sexuality among humans which often highlights persons from the LGBTQIA+ community.
Streaming: June 9
Glamorous season 1
The drama series follows Marco Mejia (Miss Benny) as he tries to shake things up in life by taking a job working for the fabulous Madolyn Addison (Kim Cattrall), who happens to be a huge beauty mogul. Along the way, Marco must contend with issues of self-discovery and romance.
Streaming: June 22
Paramount Plus
RuPaul's Drag Race All Stars season 8
RuPaul's Drag Race All Stars season 8 continues to air new episodes in the month of June. The popular series showcases some of the most legendary contestants from across the RuPaul Drag Race world and sees them dueling it out once again for a chance to be crowned winner and earn the top prize.
Streaming: Began streaming on May 12
Love ALLways
While the dating reality series concept may be familiar, Love ALLways stands out from others as the central bachelorette is pansexual. The reality series gets a little dramatic when the contestants on the show fall for each other despite being on the show to compete for the bachelorette.
Streaming: June 2
Queens of the Universe season 2
Queens of the Universe is a Paramount Plus singing competition featuring some very talented drag queens. Each week, contestants compete head to head as they try to wow the judges and survive eliminations.
Streaming: June 2
Prime Video
With Love season 2
The Prime Video dramedy follows siblings Lily (Emeraude Toubia) and Jorge Diaz (Mark Indelicato) as they attempt to cope with the big changes in their lives while trying to make sense of their romantic ups and downs. Specifically, Jorge's story is worth paying attention to as he tries to make it work with his boyfriend and his boyfriend's very Texan family.
Streaming: June 2
Get the What to Watch Newsletter
The latest updates, reviews and unmissable series to watch and more!
Terrell Smith has a diverse writing background having penned material for a wide array of clients including the federal government and Bravo television personalities. When he's not writing as Terrell, he's writing under his pseudonym Tavion Scott, creating scripts for his audio drama podcasts. Terrell is a huge fan of great storytelling when it comes to television and film. Some of his favorite shows include The Crown, WandaVision, Abbot Elementary and Godfather of Harlem. And a fun fact is he's completely dialed into the TLC 90 Day Fiancé universe.