Watch Enders' cast dazzle in Children In Need dance - which nearly tripped up Gillian Taylforth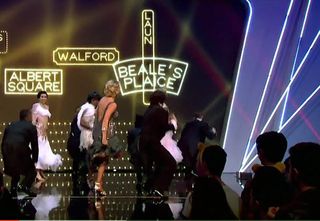 Members of the EastEnders cast - including their child stars - put on a dance show for Children In Need that was full of razzle-dazzle - and one wardrobe malfunction that nearly saw Gillian Taylforth fall flat on her face.
Gillian was dancing alongside Jonny Labey (who plays Paul Coker) when she got her heel caught in the hem of her dress and had to perform some unchoreographed moves to get back in step with her co-stars.
Gillian was nearly floored when she got her heel caught in the hem of her dress
It gave Gillian and Jonny a fit of the giggles but didn't spoil the cast's production, just added to the fun.
Gillian tweeted afterwards: "Oops. But hey.. It's all for a good cause (Who cares about a wardrobe malfunction?) #CiN #EastEnders
Gillian got a fit of the giggles after her slip-up
And Gillian did get back into the swing of things on stage pretty quickly.
The dancer who really wowed the studio audience, though, was Bonnie Langford, 51, whose legs put on a show of their own before she joined a breathtaking tap dance sequence in the cast's energetic routine, danced to "Putting on the Glitz" from the musical "Top Hat".
Bonnie had all the right moves
Danny-Boy Hatchard (who plays Lee Carter), was a bit of revelation, as he showed some smooth moves dancing with a cane.
And Lin Blakley (Pam Coker) wore the dress when she and Roger Sloman (recently revealed cross-dresser Les Coker/Christine) took to the stage and gave the viewers a little twirl.
Roger and Lin came out for a twirl
The soap's young stars provided the "Aaaaaah" factor, with Eliot Carrington (Bobby Beale), Aine Garvey (Lily Branning), Amaya Edward (Jade Green), Abbie Knowles (Amy Mitchell) and Arian Chikhlia (Kamil Masood) taking to the stage for a little swaying and shuffling.
The junior members of the EastEnders cast were also in the line-up
Back in the Queen Vic, viewers and celebrity guests were entertained by Peter Andre, who performed swing classics "Mack the Knife", "Beyond the Sea" and "Come Fly With Me" (with Shane Richie shuffling around him), plus a reworked version of his hit "Mysterious Girl".
Shane swayed while Peter crooned
EastEnders continues on BBC1, Monday, November 16, 8.00pm - and the cast will have their dancing shoes off and fighting faces back on.
http://www.youtube.com/watch?v=XK-a51GMyRQ
http://www.youtube.com/watch?v=Nw9R1q0DHjM
Get the latest updates, reviews and unmissable series to watch and more!
Thank you for signing up to Whattowatch. You will receive a verification email shortly.
There was a problem. Please refresh the page and try again.