Emmerdale stabbing: 'Chas needs serious professional help,' says Lucy Pargeter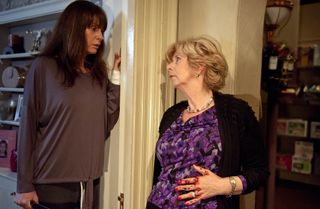 Living in fear for her life in Emmerdale (opens in new tab), traumatised Chas arms herself with a knife - and uses it on Diane, Lucy Pargeter (opens in new tab) tells Soaplife.
Why is Chas so jumpy at the moment?
"She's convinced that she's being stalked. She's been locked in the cellar, there have been strange goings on in her bedroom and in the bar and she's heard noises outside. She thinks it's Emma [Gillian Kearney (opens in new tab)], who is a bit odd."
Why does she think Emma has it in for her?
"Emma has this insecurity when it comes to James [Bill Ward (opens in new tab)]. As soon as he shows any concern for his ex-lover Chas, she thinks he will go back to her."
Does Chas want James back?
"She has no interest in him at all. In fact, she almost feels betrayed by him because he keeps sticking up for Emma."
So what does Chas think when she wakes up to find a knife by her bed?
"She thinks it's a message from Emma – her way of saying that she will need to watch her back. She completely freaks out."
And then she hears a noise downstairs…
"She thinks Emma is coming to get her – and if it's not Emma, it's somebody else. The mystery stalker is downstairs and Chas fears for her life. She goes to investigate and takes the knife with her to defend herself. When she gets downstairs, she hears something and instinct kicks in. She thinks, 'It's them or me' and lunges forward… stabbing Diane!"
No!
"Yes! Chas is horrified to see Diane fall to the floor with a knife wound. She can't believe what she's done. She tries to stop the bleeding and calls Aaron [Danny Miller (opens in new tab)]. He and Cain turn up and Chas runs away. She's in a panic and Cain [Jeff Hordley (opens in new tab)] goes after her."
What's going on with Chas?
"She has been through a lot and it has got to a point where her family can't help her any more. She needs some serious professional help."
Has she killed her friendship with Diane now?
"I hope not. They're great as a team and I really love working with Liz [Estensen (opens in new tab)]. The trouble is, Chas has let Diane down many times over the years and Diane has always been quite forgiving. This might be the final straw."
Emmerdale (opens in new tab), ITV.
Get the latest updates, reviews and unmissable series to watch and more!
Thank you for signing up to Whattowatch. You will receive a verification email shortly.
There was a problem. Please refresh the page and try again.