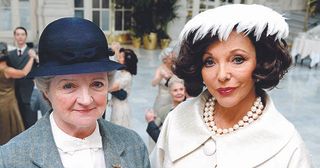 (Image credit: neil genower)
Joan Collins adds a touch of class to this 2010 Marple film, They Do It with Mirrors
Joan Collins adds a touch of class to this 2010 Marple film, They Do It with Mirrors. Joan plays Ruth van Rydock, an old friend of the sleuth, who gets in touch after a suspicious fire at her family home. Not that we don't like the tweed worn by Miss Marple (Julia McKenzie), but there's nothing like fur coats and statement hats to create an air of glamour! Clearly, this hasn't gone unnoticed by Joan's character, who says, 'Don't you think, Jane, that nobody would guess you and I are practically the same age'. Ouch. But that's nothing compared to the stab in the back one of the victims in this case gets at a home for delinquent boys. Look out for comedian Sean Hughes as one of the detectives and Brief Encounters' Penelope Wilton as Ruth's sister.
Thank you for signing up to Whattowatch. You will receive a verification email shortly.
There was a problem. Please refresh the page and try again.