Coronation Street spoilers: Jenny Bradley thinks Johnny's up to his old tricks!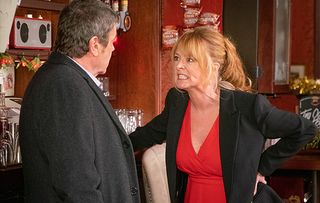 Jenny Bradley is furious to discover Johnny and Liz are together and confronts him in the Rovers.
When Johnny leaves for an appointment at the brewery and Liz vanishes, Jenny Bradley begins to track their movements on the trailer app. Liz receives a call from the police about Jim and Hannah and begs Johnny to give her a lift to the station which he reluctantly agrees to. Checking the app, Jenny is furious to discover Johnny and Liz are together. She confronts Johnny, lying that she saw the pair drive off. Can he explain himself?
Pressure mounting, Brian snaps when Jack forgets his lines at the nativity rehearsal, leaving Jack feeling awful. Back from the funeral, Audrey reveals to Rita, Nick and Lewis that Archie left her £80k.
Kate and Rana have a blazing row after Rana admits she doesn't want a baby at all. In the Bistro, Kate bites her tongue when Michelle innocently talks about hers and Robert's baby plans. Kate calls in to Adam's office and explains her deal with Robert is off but as he cracks open a bottle of scotch, Kate looks at him through new eyes, her mind whirling. Fuelled by alcohol, a determined Kate seduces Adam into kissing her passionately.
After a night searching for Cerberus, Evelyn and Roy awake in the Woody to find a police officer accusing them of engaging in lewd conduct. Luckily, they are let off with a warning. Later, Tyrone, Evelyn and Roy are out dog hunting when they spot a man walking Cerberus and follow him home. Evelyn demands her dog back but when she has no proof the dog belongs to her, the man laughs in her face.
First episode of Coronation Street this evening.
Get the latest updates, reviews and unmissable series to watch and more!
Thank you for signing up to Whattowatch. You will receive a verification email shortly.
There was a problem. Please refresh the page and try again.