Coronation Street spoilers: Macca Hibbs threatens Shona and Billy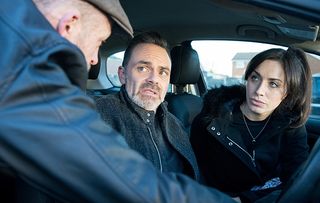 Macca Hibbs and Clayton has a plan for Shona...
Billy offers to accompany Shona to the funeral. When they arrive Macca Hibbs tells her she is not welcome and Clayton wants nothing to do with her. It soon becomes evident to Shona that something is afoot as Macca and Clayton exchange conspiratorial glances. What's going on?
Whilst Sinead starts her radiotherapy, Daniel beavers away on his essay and Sinead worries that he's trying to do too much at once.
Roy urges Carla to tell Abi the truth. However they're interrupted by Shona who reveals that the police are downstairs wanting to question Carla. She is stunned when Gary says the factory roof is not safe, the job will cost £60k and he needs half the money upfront for materials and that the factory will be closed for several weeks. Will Carla be able to stump up the cash?
Tracy hands Amy a letter from the hospital regarding her next scan. Steve tells Tracy and Amy he has upped the offer on the place on Victoria Street and gazumped Claudia. It's clear Amy isn't happy with the way things are progressing...
Sally calls Gina a thief prompting her to decide to go and stay with a friend in Newcastle and get away from the street for a while. David enlists Gail's help to measure up the shelf for his stuffed weasel.
First episode of Coronation Street this evening.
Get the latest updates, reviews and unmissable series to watch and more!
Thank you for signing up to Whattowatch. You will receive a verification email shortly.
There was a problem. Please refresh the page and try again.