Coronation Street spoilers: Steve McDonald tells Emma he's her father!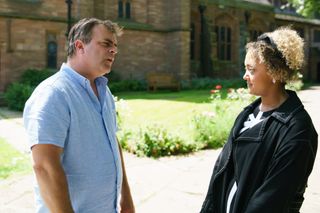 Steve McDonald drops a bombshell on Emma at the funeral.
A fragile Emma meets her brother Morgan to go to the funeral but is shocked to see a video from her mum which proves Morgan also knew her dad wasn't her real dad. Upset that she has been lied to all this time she sends him away. Later, Coronation Street's Steve McDonald arrives at the church with the wreath and seeing Emma so upset he tells her he has done a DNA test and he is her real dad. How will Emma react?
Having found a positive pregnancy test, Aggie and Ed confront Michael but when he says it is a business venture Aggie throws him out, sick of his get rich quick schemes. Michael seeks out James to tell him they need to borrow £5k to get his dad out of trouble. But will they go about it legally?
At the Bistro, scheming Geoff tries to help Yasmeen with her online banking and then drops into the conversation that he is going to the doctors as he has some health issues. What is he up to now? And how will it impact on Yasmeen?
First episode of Coronation Street tonight.
Get the latest updates, reviews and unmissable series to watch and more!
Thank you for signing up to Whattowatch. You will receive a verification email shortly.
There was a problem. Please refresh the page and try again.