Emmerdale spoilers! Matty Barton ATTACKED by an ex from his past as Hannah Barton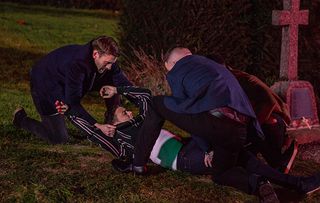 Transgender Matty Barton is viciously attacked and humiliated, on New Year's Eve, by an ex, Isaac, from his former life as Hannah Barton
Matty Barton suffers a cruel and evil attack on New Year's Eve.
What should be a fun night out at a party with his best friend Victoria turns into a living nightmare when  Matty (Ash Palmisiciano), who is transgender, runs into Isaac, an ex-boyfriend from Matty's former life as Hannah.
When Isaac realises who Matty is and digests their connection, he turns on him, taunting him with nasty barbed comments about Matty's gender. Unable to bear Isaac's nastiness, Matty decides to leave but ends up running into Isaac and his crew outside the cafe.
Poor Matty is then set upon by the group of lads who tear of his top exposing a 'compression vest' he's wearing underneath.
"This is the worst thing that could happen to Matty," said actor Ash Palmisiciano who plays Matty. "He is so embarrassed of his body anyway and is desperate for surgery. He's wearing a compression vest and they say: 'you're still a woman aren't you?' The whole village sees."
Humiliated and hurt, Matty then runs off into the darkness.
Elsewhere, Harriet (Katherine Dow Blyton) is on a desperate mission to track down Dawn. In a bid to help, Ryan (James Moore) puts a call into sex-worker Dawn, posing as a punter. Will the plan pay off?
Later, Charity Dingle (Emma Atkins) and Ryan have a touching moment in the Woolpack, which has been decked out to celebrate Ryan's birthday the first he and his birth mum were due to share together.
Get the latest updates, reviews and unmissable series to watch and more!
Thank you for signing up to Whattowatch. You will receive a verification email shortly.
There was a problem. Please refresh the page and try again.