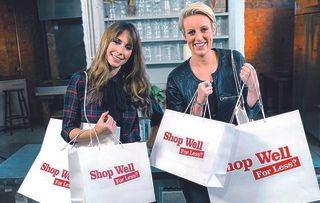 (Image credit: BBC/RDF Television/Joel Chant/UN)
Beautician Katy and mechanic Wayne from Wrexham, North Wales, love their labels, big nights out and luxury car – but the five-star lifestyle they enjoy obviously comes with a hefty price tag
Beautician Katy and mechanic Wayne from Wrexham, North Wales, love their labels, big nights out and luxury car – but the five-star lifestyle they enjoy obviously comes with a hefty price tag.
Alex Jones and Steph McGovern want to show the image-conscious couple that they don't have to spend a fortune to look the cat's pyjamas – but how will the pair one friend calls 'the Posh and Becks of Wrexham' take to using budget brands, staying in occasionally and washing the car instead of spending £500 a year on a valet service?
Also this week, hairdryers and waterproof mascara are tested to see if expense reflects quality.
Thank you for signing up to Whattowatch. You will receive a verification email shortly.
There was a problem. Please refresh the page and try again.