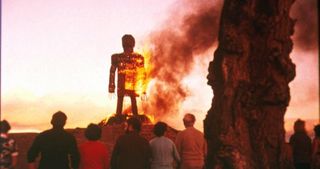 Policeman Edward Woodward arrives at a remote Scottish settlement to investigate the disappearance of a girl and finds his Christian principles under threat from the pagan community there. Christopher Lee gives one of his best performances as the local lord and Britt Ekland has the most provocative role of her career as a barmaid. Director Robin Hardy's film was originally recut by diverse hands, with all the excised scenes apparently vanishing off the face of the Earth. Even in its current incomplete state (certain scenes have been reinstated while others are still missing), this deviously plotted, haunting and mesmerising film, with an outstanding folk music score, is a benchmark chiller and one of the greatest films of the 1970s. And that famous ending is to die for.
Thank you for signing up to Whattowatch. You will receive a verification email shortly.
There was a problem. Please refresh the page and try again.