Meet the Farmer Wants a Wife cast: who's who in the reality dating show
Meet the four farmers and many women who are looking for love in the new reality dating competition.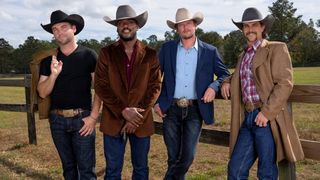 (Image credit: Michael Becker / FOX)
The US is finally getting its own version of the global phenomenon known as Farmer Wants a Wife. The reality dating competition has already taken 32 countries by storm and led to 180 marriages and 410 children (yes, you read that right!), and now it's time for the US to join the fun.
The concept of the show is as simple as its title proclaims: farmers are looking for wives. In this case, four farmers will meet four groups of women and host them on their respective farms. These women are here for love, but they're not necessarily familiar with farm life. That means these four farmers will have a big challenge on their hands; not only are they looking for love, but they have to find a woman who is compatible with their farmer lifestyles.
It's another tweak to the popular dating format of reality TV that we know from shows like The Bachelor, Love Is Blind and more.
Thanks to People (opens in new tab), we learned a little bit more about the four farmers looking for love. Let's meet Landon Heaton, Ryan Black, Allen Foster and Hunter Grayson.
The Farmers
Landon
Oklahoma State University alum Landon, 35, calls Stillwater, Okla., home. He works as a cattle rancher and a farmer on a massive property that includes a 300-acre cattle ranch, 300 acres of farmland and a 40-acre farmhouse property. Some of his hobbies include cooking, bow hunting and training retriever dogs.
Ryan
32 year-old Ryan grew up in Shelby, N.C., and is a graduate of the University of North Carolina at Charlotte. He's a horse trainer and breeder on a 44-acre ranch and in his free time he enjoys training and showing horses in competitions as well as building and designing houses.
Allen
Allen, 32, is a University of Tennessee Martin graduate from Santa Fe, Tenn. He's a cattle rancher on a 200-acre ranch and in his free time he can be found hunting, fishing, riding horses and driving ATVs.
Hunter
Hunter, 31, grew up in Watkinsville, Ga., and is a graduate of Northeastern Oklahoma Athens Technical College. He returned to Watkinsville and that's where he lives and works as a horse and cattle rancher on a 200-acre farm. Some of his hobbies include team roping and free dive spearfishing, and he also sings in his band, Hunter Grayson & The Hat Creek Band.
The Host
Jennifer Nettles
Country superstar Jennifer Nettles will be on hand to help guide the four farmers on their journey to find love. She recently released a new album of American Songbook classics titled Always Like New, and she also appeared as a judge on the competition series Go-Big Show. She's also known for her role as Aimee-Leigh Gemstone in The Righteous Gemstones.
Nettles is a five-time ASCAP award winner and three-time ACM Award winner, and she also has a CMA Award, the Human Rights Campaign's Ally for Equality Award and the Artist Impact Award from the Lincoln Center. She's also a two-time Grammy winner for her collaborations with Sugarland and Bon Jovi.
The Contestants
Fox provided the names, occupations and hometowns of the 32 women competing to become farmers' wives in Farmer Wants a Wife.
Ariana
Occupation: Sales Associate
Location: Weehawken, N.J.
Brittany
Occupation: Travel Blogger
Location: Sacramento, Calif.
Erica
Occupation: Restaurant GM
Location: Manhattan, N.Y.
Emma
Occupation: Dance Coach
Location: Pacific Palisades, Calif.
Jessica
Occupation: Waitress
Location: Boston
Jordan
Occupation: Yoga Teacher
Location: Kennesaw, Ga.
Julia
Occupation: Cyber security analyst
Location: San Antonio
Sarah R.
Occupation: Content creator
Location: Kansas City, Mo.
Hayley B.
Occupation: HR Manager
Location: Chicago
DeVonne
Occupation: Director of marketing
Location: Scottsdale, Ariz.
Hayley R.
Occupation: Recruiter
Location: New York
Meghan
Occupation: Event coordinator
Location: Midland, Texas
Porschia
Occupation: Accounting Assistant
Location: Las Colinas, Texas
Sara V.
Occupation: Bartender
Location: Dallas
Ashley L.
Occupation: Executive coordinator
Location: Dallas
Talia
Occupation: Therapist
Location: Atlanta
Sydney
Occupation: Music Booking Agent
Location: Nashville, Tenn.
Stephanie
Occupation: Sommelier
Location: Temecula, Calif.
Ashley R.
Occupation: AMSA at Veterans Hospital
Location: Orlando, Fla.
Cassidy
Occupation: Medical sales
Location: Scottsdale, Ariz.
Khelsi
Occupation: School teacher
Location: Cataula, Ga.
Kiersten
Occupation: Blogger
Location: Nashville, Tenn.
Kylie
Occupation: Veteran Affairs advocate
Location: Orlando, Fla.
Lily
Occupation: Psychology student
Location: Miami
McKenzie
Occupation: Interior designer
Location: Phoenix
Nicole
Occupation: Supervisor of radiation oncology
Location: Allentown, Pa.
Rebecca
Occupation: Horse trainer
Location: Moorpark, Calif.
Sarah
Occupation: Communications for global children's charity
Location: Brooklyn, N.Y.
Sloan
Occupation: Spirituality coach
Location: Miami
Zoe
Occupation: Photographer
Location: Nashville, Tenn.
Shartaysia
Occupation: Mental health therapist
Location: Los Angeles
Heather
Occupation: Real estate investor
Location: Dallas
Farmer Wants a Wife airs Wednesdays at 9 pm ET/PT on Fox.
Get the What to Watch Newsletter
The latest updates, reviews and unmissable series to watch and more!
Editorial Content Producer
Sarabeth joined the Watch to Watch team in May 2022. An avid TV and movie fan, her perennial favorites are The Walking Dead, American Horror Story, true crime documentaries on Netflix and anything from Passionflix. You've Got Mail, Ocean's Eleven and Signs are movies that she can watch all day long.
When she's not working, Sarabeth hosts the My Nights Are Booked Podcast (opens in new tab) and blog (opens in new tab) dedicated to books and interviews with authors and actors. She also published her first novel, Once Upon an Interview (opens in new tab), in 2022.