Will single dad VJ give up on baby Luc?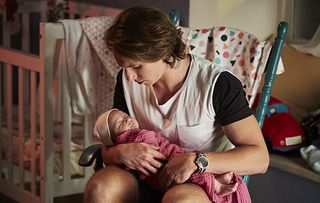 VJ is struggling to look after baby Luc and study at the same time, but will he accept an offer and give up the baby's care full-time?
VJ is trying his best to look after Luc in the wake of Billie's death in Home and Away. But looking after a needy newborn when you're trying to study isn't easy. As the long nights and tears take their toll on the student, he loses his rag with the baby…
Meanwhile, Leah is struggling too, but fails to see how her son is trying to tell her he can no longer cope with the situation as it is. When Irene extends an offer to take baby Luc, will VJ accept her help?
VJ is finding single parenthood REALLY hard.
VJ is finding single parenthood REALLY hard.
Although he wants to do his best by Billie, the teenager isn't coping with the demands of studying and being a dad.
When baby Luc won't stop crying, VJ shocks himself as he loses his rag and shakes her cot, insisting she stop.
Later, he's wracked with guilt over his aggression.
VJ's mum tells her son parenting is hard and admits she's finding it tricky, too…
But VJ is frustrated - his mum Leah isn't properly listening to what he's saying.
Leah's trying her best to help her son but it's not enough. Should VJ and Leah accept when Irene offers full-time support, suggesting she cares for Luc at her place? Watch Home and Away on Channel 5 from Monday, May 1
Get the latest updates, reviews and unmissable series to watch and more!
Thank you for signing up to Whattowatch. You will receive a verification email shortly.
There was a problem. Please refresh the page and try again.